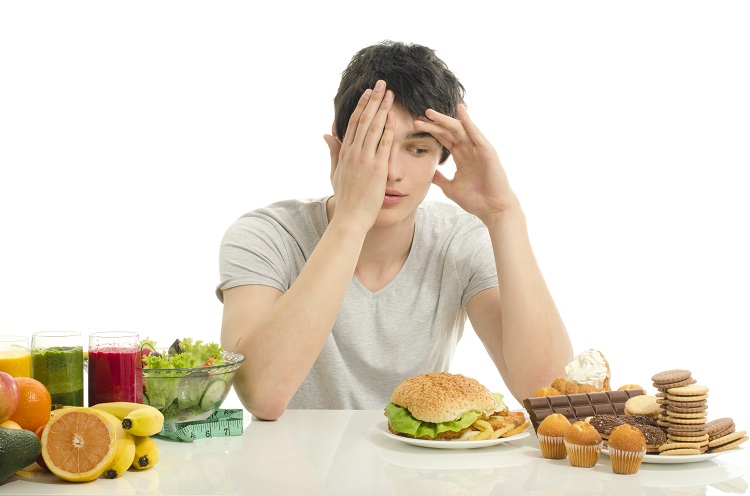 Researchers have discovered a profound link between the consumption of sugar and depression in men. Women, however didn't show this association. Quite the opposite, in fact. This study may prove the age-old belief that women need more sugar than men.
The University College London (UCL) with a control group of 5000 men and 2000 women. Diets and common mental health problems were examined and the results revealed that men who consumed more than 67g of sugar per day were 23% more likely to develop some form of mental disorder than men who consumed less than 39g per day.
Women often turn to sweets to relieve stress or depression – the researchers wondered if this was true for men, as well – the answer was no. They found no evidence that the men ate more sweets during 'down' times. On the contrary, they seemed to lose their appetites altogether.
Anika Knüppel, a leading author at the UCL Institute of Epidemiology and Health stated, "High sugar diets have a number of influences on our health but our study shows that there might also be a link between sugar and mood disorders, particularly among men. There are numerous factors that influence chances for mood disorders, but having a diet high in sugary foods and drinks might be the straw that breaks the camel's back. The study found no link between sugar intake and new mood disorders in women and it is unclear why. More research is needed to test the sugar-depression effect in large population samples."
Sugar consumption and mental health status was measured with a series of questionnaires.
The biggest problem with studies that rely on questionnaires is that people do not always tell the truth – or the whole truth. Human nature dictates that in order to avoid embarrassment, people tend to understate how much they actually eat – this is especially true for women.
Researchers in this study strongly believe that the women questioned largely understated their food and sugar consumption. Women were already under-represented by less than half of the subjects, so to say that only men may be affected by excessive sugar consumption is premature. Knüppel feels more research is needed.
Rob Howard, professor of old age psychiatry at UCL, agrees. "This study is important because it is the first to be able to show that an increase in risk of about a quarter in common mental disorders – mostly mild anxiety and depression – in men who eat the most sugar cannot be explained by those who were already anxious or depressed using sugar as a form of comfort. Association was complicated and further studies would be needed."
Tom Sanders, professor emeritus of nutrition and dietetics at King's College London, had reservations. He pointed out that various factors could influence the results, such as socioeconomic status, alcohol consumption, smoking, heredity and obesity. Sanders contends that, "There still is a risk of residual confounding factors. From a scientific standpoint it is difficult to see how sugar in food would differ from other sources of carbohydrate on mental health, as both are broken down to simple sugars in the gut before absorption and the glycemic index of sugar is less than refined starchy foods such as white bread and rice."
Depression and Life Insurance
A Canadian Living report states that approximately 10% of the population will suffer from some form of depression and 15% will be stricken with severe depression during their lifetime. Depression can make you ineligible for life insurance coverage.
Depression is a serious mental illness that often ends in suicide, which is why life insurance companies shy away from providing coverage for anyone at risk of developing a mental illness. Depression has been categorized into many forms, including::
Endogenous Depression – Depression that is caused by internal sources, such as worry, fear and stress.
Situational Depression – Temporary sadness or "depression" linked to a particular situation.
Psychotic Depression – A deep hurt that manifests itself into hallucinations or paranoia – usually stemming from severe trauma.
Traditional life insurance may still be available to you, depending on your form of depression. You could qualify for a policy at standard rates if you don't have underlying health issues and a good family health history.
Individuals with a mild type of depression and the condition has been stabilized, have a very good chance of receiving standard rates. Applicants with more severe forms of depression are more likely to receive a rated policy, or be declined all together.
A rated policy is associated with higher risk, therefore premiums can be anywhere from 50% to 350% higher than the standard rate. Extremely high risk applicants are likely to be declined.
Other options include No Medical Life Insurance: Simplified Issue Plans and Guaranteed Issue Plans.
Simplified issue policies have higher face amounts and lower premiums and many of these plans are available on an immediate pay basis. Simplified issue plans have no medical tests, but do have a short series of health questions. Thankfully, most simplified issue plans do not have a depression-related question. If the insured is first declined for life insurance, the type of simplified issue plan available will be more limited. Therefore, if you think that there's a good chance that you will be declined from traditional insurance, you should consider first looking at a simplified issue policy. Canada Protection a leading provider of Simplified Issue policies increased it's issue limits on it's Immediate Pay and Deferred Payout Term policies. Humania Assurance also now offers $300,000 of No Medical Term 10 and Term 20 Simplified Issue plans.
Guaranteed Issue Life Insurance is often considered as the last resort. There are no medical tests and no health questions. Premiums are much higher and the death benefit is limited in the first two years to a return of premiums for non accidental deaths.
For more information, give us a call at 1-866-899-4849 or try our No Medical Life Insurance Quote Page if you are looking for rates.