Why Life Insurance for Children?
Life Insurance for a child's life can be a delicate subject, but can make financial sense, depending on your family's financial situation. Insuring a child at a young age guarantees that he or she has insurance now and has the ability to get insurance in the future.
As parents, we would do anything for our kids, but what if the medical expenses were already taken care of and we could concentrate on being our child's soft place to fall?
The following are 5 reasons why insuring a child can make sense:
1. Allows parents and grandparents to leave a financial legacy to their children and grandchildren.
2. Affordable premiums guaranteed for life.
3. Policy can be have limited pay periods i.e. Plan can be Paid-up insurance after 20 years.
4. Any dividends, under a participating whole life policy can grow tax sheltered within the policy.
5. Dividends can be used to increase coverage and cash value and accumulating cash value will allow for future borrowing needs.
Life Insurance Policies for Children
1. Permanent Life Insurance for Children
This is the most expensive solution for a child, but it also offers the most comprehensive coverage. Permanent Life Insurance solutions for children include the following.
Universal Life: These plans can offer level cost of insurance with an optional savings component.
Non Participating Whole Life Insurance: These plans are fully guaranteed, have a guaranteed cash value, and can be paid up in 10, 15, or 20 years.
Participating Whole Life Insurance: These plans are generally the most expensive, but in addition to guaranteed premiums, these plans offer the highest cash values and increasing death benefits. Premiums for permanent policies can range from $15 a month per child, depending on coverage amounts and plan type.
2. Stand-Alone Term Life Insurance Policy for Children
These plans are less expensive and offer fewer features than Permanent plans. Also, if the coverage is not converted to a Permanent plan, it will eventually expire. Stand-Alone Term Policies for children include the following options.
Traditional Term Insurance: A limited number of companies offer Traditional Term Insurance for children. The cost of these policies remains level for the initial term and increases as the insured ages.
Term Insurance with Built-in Critical Illness Coverage: A few insurance companies recently introduced Term policies for children with built-in Critical Illness benefits. Premiums on Term policies can range from $11 a month per child, depending on coverage amounts an the plan type.
3. Children's Term Rider
These policies must be added as a rider to an existing or new policy from a parent. They cannot be kept as a stand-alone policy. Consider the following factors for Children's Term Rider options.
The face amounts on these policies are more limited, usually ranging from $5,000 to a maximum of $30,000.
The coverage usually ends when the insured reaches 18. (Certain companies extend the expiry date to 21 or 25 if the child is in school.)
One rider can cover multiple children.
Costs generally start at $6 a month, depending on the coverage amount and plan type.
Should you get Life Insurance for Children: Expert Opinion
Chantal Marr, president of LSM Insurance about Life Insurance for Children
"Yes, I'm a big believer in life insurance for children. I have life insurance on each of my three children. It allows them to have coverage which is locked in at an affordable rate regardless if they have a change in health down the road. This can be particularly advantageous if the child's parents have health issues that are hereditary. Many financial experts argue against it because the parent and not the child is the financial breadwinner. I totally agree insuring the parent is more the crucial of the two. But anyone who has lost a child or knows someone who has a lost child realizes the emotional upheaval this can have on the parents. The biggest advantage of having life insurance on a child is it gives the parents the time necessary to properly grieve their child's loss and be there for the surviving family members."
Ed Rempel, a certified financial planner with Armstrong Quaile Associates Inc about Life Insurance for Children:
"Life insurance provides little or no benefit to the child. The main purpose of life insurance is to replace their income when they have dependents, which is typically not until age 25 to 30. Why pay a policy for 25 to 30 years just in case they might need it in the future? Any policy would be minor anyway. When your kids are married, they will probably need coverage of 10 times their income 25 years from now, which is likely $1-million to $2-million in future dollars. The dumbest idea is to buy whole life insurance for your child. I've seen this awkward situation many times. Clients in their twenties cashing in very low return policies that were inflicted on them when they should be building wealth. Parents have many more important uses for their money, such as life and disability insurance for themselves, their retirement goals, and their child's RESP."
Mark Halpern, a certified financial planner, trust and estate practitioner and president of illnessPROTECTION.com about Life Insurance for Children:
"Life insurance on children should be discussed as part of a comprehensive tax and estate planning discussion with parents, especially if there is a family medical history of things like cancer, heart problems, colitis, diabetes, etc., because the best time to buy life insurance is when we are young and healthy – qualifying is easier and the premiums are much lower. Other reasons for buying life insurance on children include using it as an education-funding vehicle or for those of higher net worth, as a tax-free transfer of wealth from parents to children or grandchildren."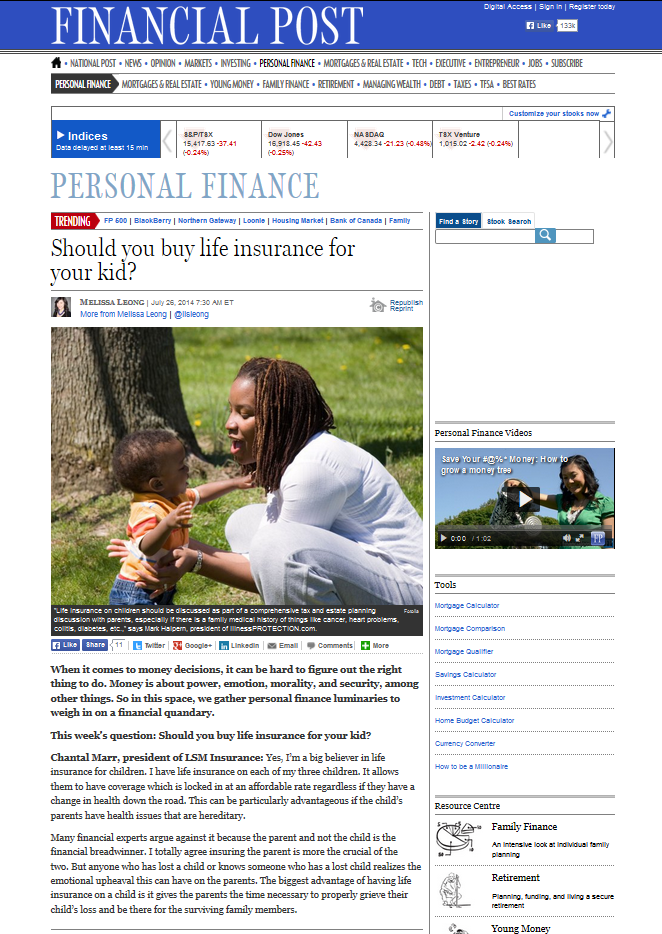 Link to the Financial Post article on Life Insurance for Children