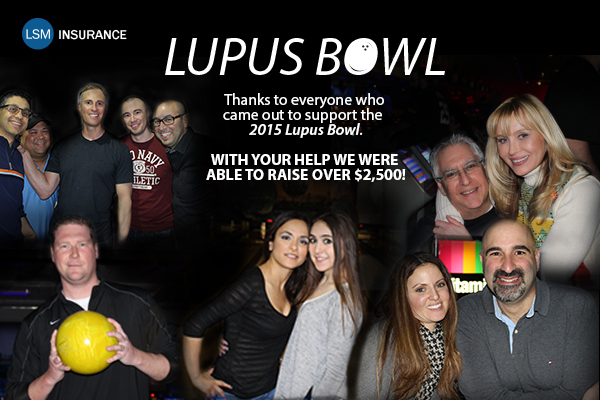 Lupus Ontario and LSM Insurance came together on February 13th 2015 at 6:30 p.m. to host the 2nd Annual Lupus Bowl, raising over $2,500. The event was held at World Bowl in Richmond Hill.
We would like to thank everyone who were able to make it to the Lupus Bowl to show your support for Lupus Ontario including Industrial Alliance, Canada Protection Plan and Foresters Life. All donations made will be providing support to those living with lupus, as well as, educate others about this disease, increase awareness and fund research efforts.  
Lupus is a chronic disease where inflammation occurs in one or more parts of the body. It belongs in a category of diseases like rheumatoid arthritis, multiple sclerosis, juvenile diabetes and scleroderma. Among the various types of lupus the most common is systemic lupus erythematosus (SLE). This type of Lupus is estimated to affect every 1 in 1000 Canadians. SLE is a complex condition that targets any tissues or organs of the body including skin, lungs, muscles, joints, heart, kidneys, blood vessels and the brain.
Thank you again for coming out to the Lupus Bowl in support for Lupus Ontario!