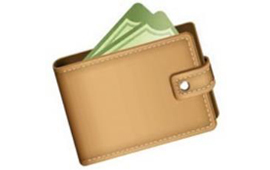 Dan Wesley
Blogger, Our Big Fat Wallet
1) What Type of Life Insurance do you own?
My employer provides a term life insurance policy as part of their benefits package. Under their
basic coverage package, I am covered for 2x my salary. I also buy travel insurance to use when travelling out of the country.
2) What factors did you consider when determining the coverage amount?
In the event that I pass away, I would want to make sure my wife and I's major financial liabilities would be paid. We have a mortgage on our principal residence, as well as a rental property. While the rental property provides monthly income, I didn't want my wife to be in a situation where she would have a difficult time making the monthly mortgage payments on our principal residence. We have no consumer debt, so that is not a factor for us.
We plan on starting a family one day and this is something I consider in terms of insurance. The key factor for me is how our monthly expenses will change once we have kids. We would need to pay for childcare, future education costs, among many other smaller costs.
3) Do you believe in life insurance for children?
I don't think it's necessary because children do not have dependents.
4) What is the biggest life insurance mistake people make?
Not reviewing their insurance coverage regularly and when a life changing event happens. Having children and getting married are both important life events that should trigger a review of a life insurance policy. My employer sends out a notice annually to all employees asking if any of their coverage should change and we are required to sign a form stating that we have reviewed the current coverage and consider it adequate. When I got married, I increased my life insurance coverage so that my wife would be covered in a worst-case scenario.
5) Outside of life insurance, what other types of individual insurance
are often overlooked?
Travel insurance. We've all heard horror stories in the media about people who fall ill while travelling abroad without adequate travel insurance. I always buy travel insurance to protect against this in case I get sick while travelling. Even something minor can lead to huge medical bills depending on the circumstances. I like travelling with the peace of mind knowing that I'll be covered in case something comes up.
Dan Wesley's passion for finance started at a young age. When he was 17, he used his earnings from his minimum-wage part-time job to pay for a sports car – in cash. He graduated from university with no debt and over $10,000 in assets. and bought his first rental property within four months of graduation.

Finance isn't just a hobby for him – it's what he does. He graduated with an accounting degree (with honours) and holds a professional accounting designation. He currently works in the corporate finance group of a large petroleum company. He is in his late 20s and lives with his wife somewhere in Western Canada.
LM00LM