Manulife Vitality, a program that rewards policyholders for making healthy choices with the help of technology, is helping people save money and live better. Read on to learn more.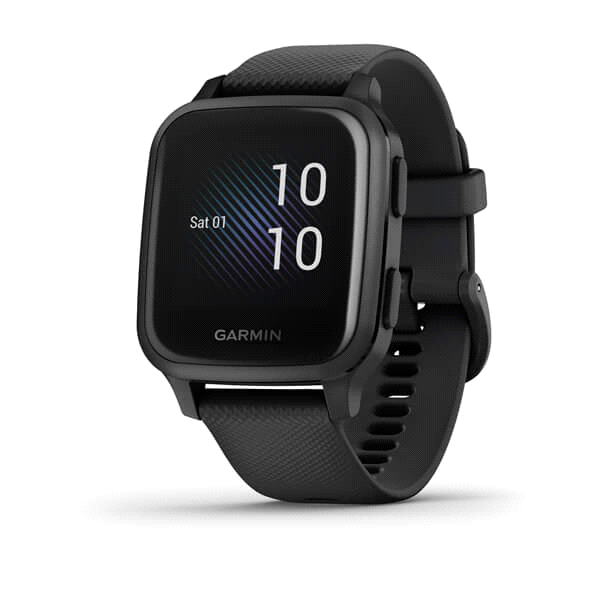 What Does Activity Monitoring Have to Do with Insurance?
The idea of combining technology and insurance is not new. In particular, activity monitoring has become a common term in the context of insurance.
It all started with car insurance, where the idea of monitoring driving behaviours and rewarding good driving habits with lower car insurance premiums found its place across numerous insurance companies. The monitoring was realized most frequently via a device/GPS installed into the car or using a smartphone to see key driving aspects.
This was later expanded to include homeowners' insurance by providing discounts for smart tech, smart locks, security systems, smart doorbells – rewarding homeowners for adopting technology that reduces risks, meanwhile more commonly known as "Behavioral Insurance".
In Canada, currently Manulife leads the way among innovative life insurers in the behavioral insurance space. So, we will use its program, Manulife Vitality, a program that rewards Canadians for living a healthier life via monitoring own physical activities and focusing on a healthier lifestyle habits, to better understand how Canadians, and Millennials/Gen X in particular, can benefit from a combination of leveraging technology and behavioral life insurance.
Why do we focus on Millennials and Gen X? These are two demographic segments that have dominated the tech sphere so far in the use of wearables and smartwatches. Here is the use of wearables by age category:
| | |
| --- | --- |
| Canadians | Use or want a fitness device |
| Millennials | 77.5% |
| Gen X | 55.3% |
Source: SCOR research
It is important to mention that meanwhile, more senior segments of wearable device users are growing quickly as technology is becoming more robust and easier to use.
How Does Behavioral Insurance Work?
The idea behind combining life insurance and promoting positive health behaviors is very clever as it is something that benefits both sides: insurance companies and insurance customers (policy holders).
If an insurance customer allows an insurance company to view some aspects of their health and health behaviours, the chances are very good that this person will be, first, taking better care of their health and, second, risks associated with this customer will be more transparent; and therefore, as a rule, lower for an insurance company (e.g., risk of the life insured getting sick or dying).
It means less claim payouts to an insurance company resulting in higher profitability, whereas part of these savings can be passed back to a customer, rewarding them for a good health behaviour.
As an example, Manulife Vitality's program rewards customers for a multitude of good health habits and behaviours such as:
Being a non-smoker
Engaging in physical activity (from walking your dog to participating in athletic events)
Receiving routine vaccinations
Conducting preventive health checks
Completing online health education courses
Meditating
And many more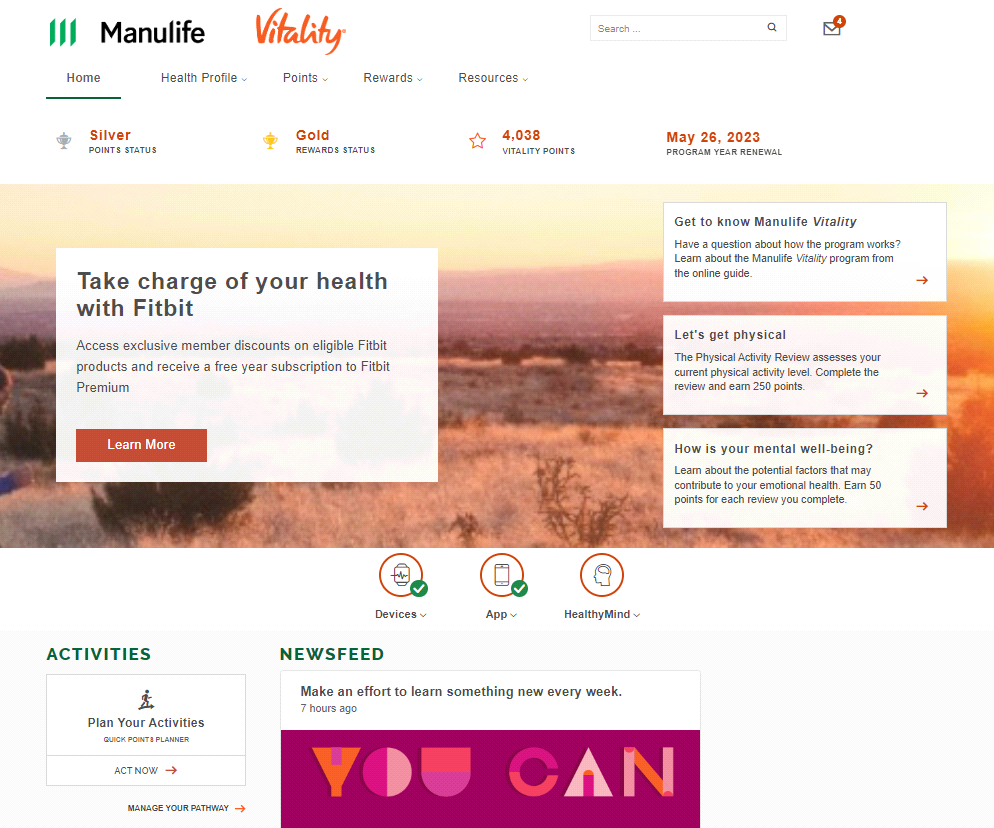 Do any of those habits and behaviours apply to you? That's something that could get you rewards and premium discounts from an insurance company.
The program is straightforward as the associated technology is quite robust and easy to use, but self reporting is an easy option that is offered as well. Participating and getting credit for the things you do is quite simple. While you can submit evidence of your healthy activities on the website or mobile app, one of the easiest ways is utilization of a fitness device. Getting started is even easier; insurers often provide a complimentary or heavily subsidized device.
For example, the Manulife Vitality Plus program compensates (either fully or partially, depending on the device model) its participants for certain models of Garmin1 and Fitbit2 devices.
There is even an option to get a sponsored Apple Watch, which comes at a cost of a few dollars per month or at no cost3 as you can earn the monthly payment by using the watch to get credit for your physical activities.
| | | | |
| --- | --- | --- | --- |
| | | | |
| Garmin Vivofit | Garmin Venu Sq | Garmin Lily | Apple Watch |
Once you have a fitness device, use the program and device settings to determine how much data you want to automatically stream to the insurance company, and what you choose to self-report. Some data, such as smoking habits, can only be self reported.
Manulife sets your initial Manulife Vitality contract from a position of trust with tangible savings and, once it has a solid monitoring basis (e.g., 10 months for the Manulife Vitality program for the first year, and a reassessment of insurance premiums every 12 months following) allowing you to benefit from potential savings based on your engagement with the program.
On top of this, think about other non-tangible benefits from living a healthier life: feeling better, being able to exercise, favourite sports, improved social interaction and so much more.
How Much Can You Save on Life Insurance with Behavioural Insurance?
The amount of life insurance savings associated with these programs fully depend on the level of your participation in the program and your health-related behaviours.
For example, members of the Manulife Vitality Plus program are able to collect a certain number of points for various activities, qualifying them for bronze, silver, gold or platinum status. Here are savings associated with each level:
Bronze
Silver
Gold
Platinum
Life Insurance premiums
10% savings after the first year
n/a
2% savings after the first year
10% savings after the first year
15% savings after the first year
That's not all. Once you start getting into various levels you can enjoy various additional savings such as:
Offering
Bronze
Silver
Gold
Platinum
GoodLife Fitness Membership4
25% discount, no joining fees
That means savings of ~$250/year plus $70 in one-time enrollment fees
Expedia benefits
n/a
15% off …
25% off …
50% off …
… two hotel bookings of unlimited nights on the first $1,000 of your booking and up to $1,000 savings per program year.
Hello Fresh discounts
$0
$20
$45
$83 (standard 2×3 box)
Amazon Prime
n/a
n/a
n/a
One-year Amazon Prime membership*


When you reach Platinum status and complete your VHR for three consecutive years.
Here is what the main dashboard looks like where customers can see their current points status across various categories: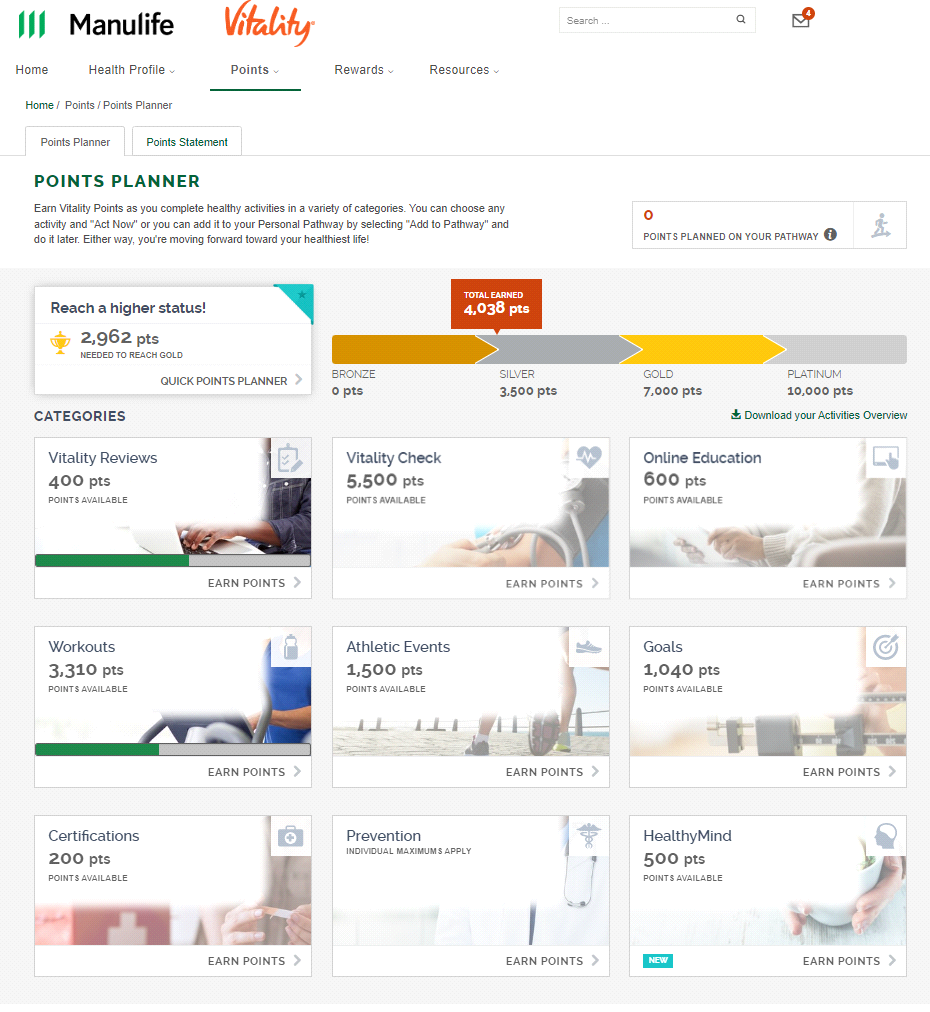 What are Some Cool Features Offered Today?
As for the Manulife Vitality Plus program, the cool aspect of it is that you can collect Vitality PointsTM for a very wide range of health-related behaviours. Some data is conveniently transmitted via a health monitoring device, while others are self-entered. Privacy is assured. You can also access a broad range of health resources to take better care of yourself.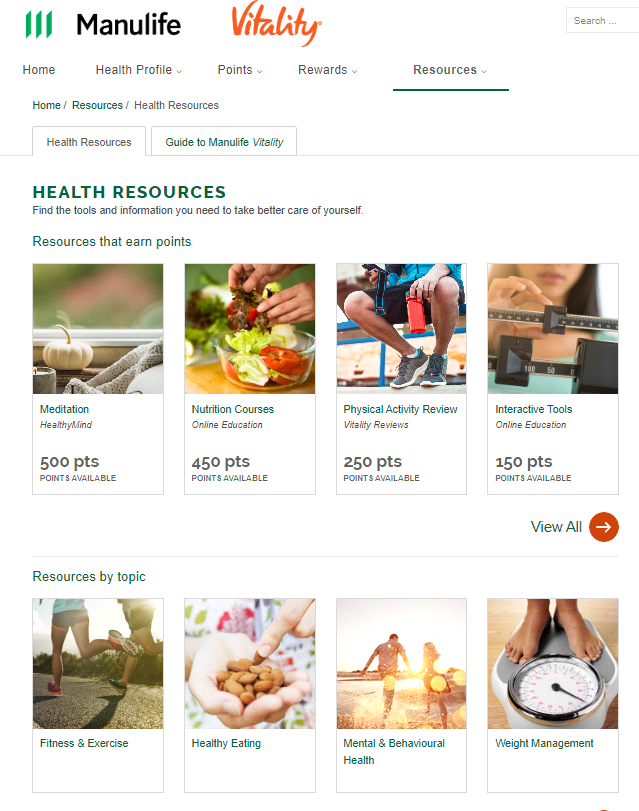 Numerous partners of this program such as, Amazon Prime, Expedia, Saucony and others offer additional perks should you get to certain levels of membership.
What are Other Additional Benefits of Behavioral Insurance?
Aside from tangible monetary benefits, there are many additional positive aspects, with your health progressing on a positive course as you are engaging in more health-focused activities and behaviours. Here is some real data from the Manulife Vitality program about its members5:
11% of members improved the body mass index to a healthy range
31% of members improved their blood pressure to a healthy range
21% of members improved their cholesterol level to a healthy range
26% of members improved their glucose level to a healthy range
An embedded fun game Vitality Squares™ allows you to play monthly for Vitality Points and e-gift cards.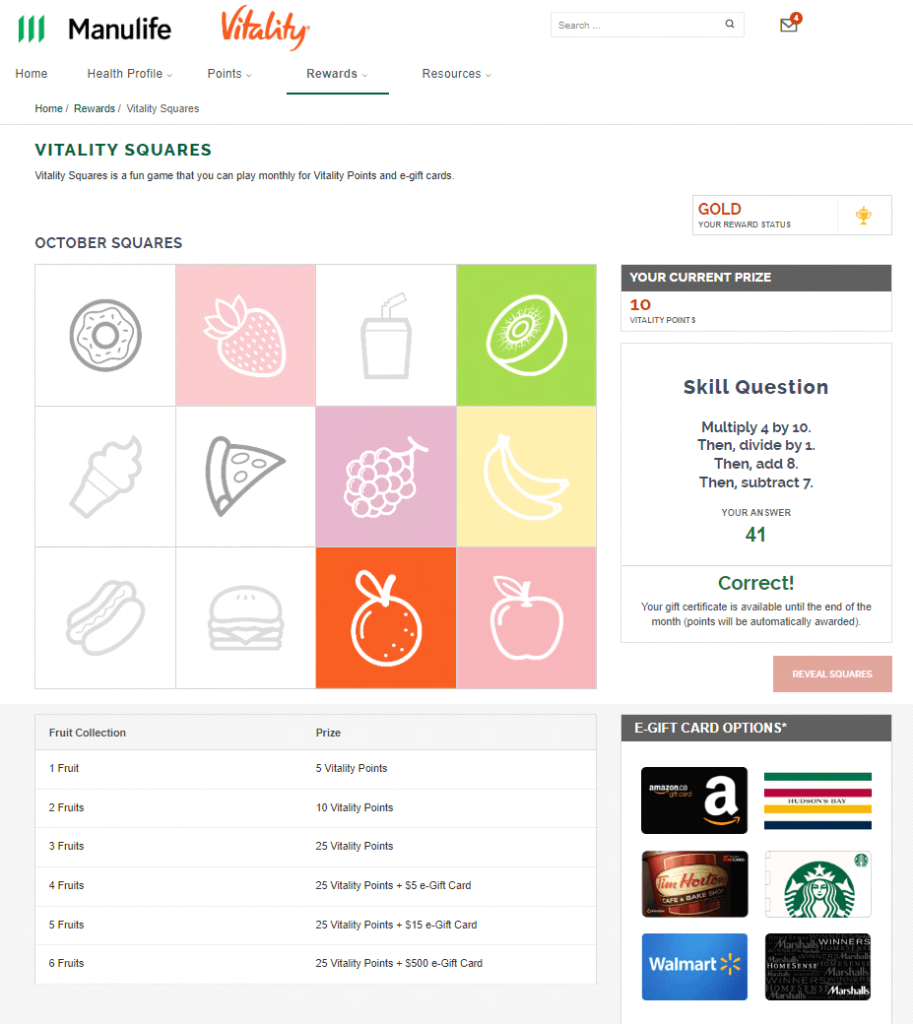 Are There Any Data Security Concerns?
As an example, Manulife follows very strict data handling guidelines when dealing with personal and monitoring data. It is not being sold and passed to other parties and is being used only to administer the program. Customers do have to provide their consent and can select what services to participate in, or not.
We hope that you find this overview of the Manulife Vitality program helpful. Our experienced insurance professionals have access to 20+ life insurance providers in Canada including Manulife. Should you be interested in the Manulife Vitality program, please do not hesitate to reach out, either for a quote or simply to ask questions.
Disclaimers
1. Only available on the first year of the Manulife Vitality membership. Sign up reward. Does not depend on Vitality Status™. Garmin and Vivofit are registered trademarks of Garmin Ltd.
2. Sign up reward. Does not depend on Vitality Status™. Fitbit and Fitbit Luxe are registered trademarks of Fitbit LLC or its subsidiaries.
3. Initial payment does not include applicable taxes or upgrades which may include cellular models. Tax on initial payment is based on retail value of Apple Watch. Apple Watch Series 8 requires an iPhone 8 or later with iOS 16 or later. Wireless service plan required for cellular service. Apple Watch and iPhone service provider must be the same. Each monthly payment can be reduced to as little as $0 depending on how many Vitality Points you earn. Apple is not a participant in or sponsor of this promotion. Apple Watch is a registered trademark of Apple Inc.
4. Goodlife Fitness reward not available in Quebec.
5. Manulife Vitality program data between 2020 and 2021.
6. Vitality Wheel and Vitality Squares are not available in Quebec.
Eligibility for rewards may change over time. Rewards are not guaranteed over the full life of the insurance policy.
Insurance products are issued by The Manufacturers Life Insurance Company. The Vitality Group Inc., in association with The Manufacturers Life Insurance Company, provides the Manulife Vitality program. The Manulife Vitality program is available with select policies. Please consult your financial representative to learn more and find out if you qualify for this product. Vitality is a trademark of The Vitality Group International Inc., and is used by The Manufacturers Life Insurance Company and its affiliates under license. Vitality Points, Vitality Status and Vitality Health Review are trademarks of The Vitality Group International, Inc., and are used by The Manufacturers Life Insurance Company and its affiliates under license. Manulife, Stylized M Design, and Manulife & Stylized M Design are trademarks of The Manufacturers Life Insurance Company and are used by it, and by its affiliates under license.
© 2023 The Manufacturers Life Insurance Company. All rights reserved.
The logos and other identifying marks attached are trademarks of and owned by each represented company and/or its affiliates. Please visit each company's website for additional terms and conditions.