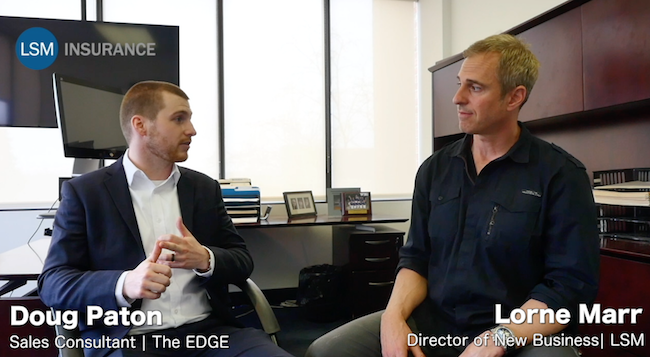 Doug Paton has worked in the financial industry for over 5 years, working with a number of leading insurance companies over that time frame. He currently works as a sales consultant at The Edge.
What do you enjoy about working at The Edge?
Coming from larger institutions, it's refreshing to see the personal attention you get at The Edge. That's the main difference you get a smaller team more intimate interaction with colleagues and advisors. Every voice is heard and every person is given the time and attention they require.
In terms of brokers and clients, how is the right amount of disability insurance determined?
We insurance lifestyle, not just income. Cars you drive, homes, vacations; things you don't think of outside of cost. There is more that goes into holistic disability coverage than just the basic expenses.
Is there a unique process regarding The Edge?
The whole approach is simplifying disability insurance. The majority is guaranteed issue. This takes the complication out of underwriting. Products that we do underwriting for are simplified and have a quick turnaround not as in depth as tradtional policies.
What is new on the horizon at The Edge?
We have some changes to business overhead expense policy. Cost and coverage improvements.
Disability insurance is something your company is big on, care to elaborate?
Lorne: Usually, we talk a lot about life insurance, but I thought disability insurance is really an underserved market for a lot of people and it is a very important product. Insuring your income is a big foundation of an overall financial plan. I thought Doug could tell us a little bit about the importance of disability insurance and what type of variables, a broker, a client, may look at when determining the right amount of disability insurance.
Doug: First and foremost, you hit the nail on the head there saying that it is an underserved market. The reality of it is, the majority of folks focus on the risks of dying too early or outliving your savings, but we don't really, as often as we should, take a look at that third variable which is if something were to happen to you, disability wise. When we take a look at that, the importance of protecting that financial plan encompasses everything, not just life insurance from an investment perspective. One of the things that we talk about which we want to incorporate into that is not just the carrying cost of the house in terms of what we need to protect for the client. We are also looking at protecting the lifestyles. We talk about the cars they drive, the houses they live in, the vacations they take- all of the associating costs that we use our paycheck to cover that we don't traditionally think of when we do disability insurance.