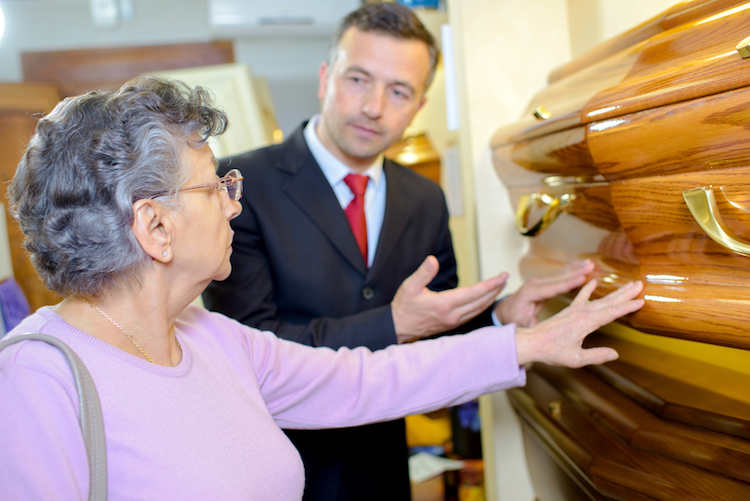 There comes a time in everyone's life when the subject of death has to be brought to the table. Nobody likes to think about it, let alone discuss the topic with their family, but putting off important decisions about final preparations will only make things more difficult for the loved ones you leave behind.
Making final arrangements ahead of time will take a lot of pressure off your survivors. Planning ahead lets everyone know what arrangements have to be made and how much it will cost, freeing them to deal with their grief without worrying about what to do next. That is where Funeral Insurance can help.
Costs and Arrangements
The cost can vary dramatically, depending on what you want. Eric Vandermeersch, founder and CEO of Basic Funerals, says after-death costs can be as low as $1,500 or as high as $20,000, with the average being around $8,500. He says the cost varies based on personal preferences, culture and values.
"It's like saying I want to buy a car, what should I budget for," Vandermeersch explains. "There are a lot of options. There are people looking for just the basics and there are people looking for more traditional ceremonies."
These are some post-death arrangements you'll need to consider. Prices are approximate and vary by city and province.
Death certificate ($15-$22) and registration ($55)
Every death must be legally registered before a death certificate can be issued. A death certificate is needed to apply for benefits, make an insurance claim and settle the estate. Costs for the certificate and registration varies by municipality and depends on the number of certificates reqested.
Transferring the body ($100 and up)
Transfer service fees vary based on how many times and how far the body needs to be moved. For example, the body may need to be moved from the place of death or transported to a cemetery or crematorium. You don't necessarily have to use a professional transfer service unless the body needs to be moved out of the province. Obviously, this will cost much more.
Shroud, casket or urn ($0-$3,000 and up)
Caskets and urns come in a wide variety of styles – and prices. From simple to elaborate. Or you can choose the no-cost option – a shroud. Some cemeteries allow you to bury the body in a simple shroud and the crematorium may let you use your own container for the ashes. Even though the funeral home will try to sell you a casket or urn, you don't have to buy from them. You may be able to find a better deal elsewhere.
Preparing the body ($125-$525)
Body preparation consists of bathing and grooming (applying make-up, if you like), then wrapping or dressing. You can also have the body embalmed. Although embalming is recommended, it may not be legally required in your province.
Ceremonies (funeral, visitation, memorial) plus staffing fees ($2,000 or more)
According to Vandermeersch, the sky is the limit when it comes to ceremonies in funeral homes, churches or chapels. "These costs go up because there are more staffing fees to consider, especially when a casket is involved, and then you might have a reception with food." Of course, formal services aren't mandatory. Family members can have an intimate service in their own home without a special license or permit as long as they're not being paid.
Burial plots and niches ($1,000 or more)
Family plots and side-by-side plots are generally highly desirable, making them more expensive, however single plots are often quite pricey, as well.
Cremation or burial services ($1,000 and up)
Vandermeersch says the number of Canadians choosing cremation is rising, especially direct cremations, the cheapest option.
Average Funeral Costs Per Province
British Columbia – $1,000 to $12,000. The professional service fee funeral directors charge usually covers transportation of the deceased, death certificate, registration and all the necessary documents.
Alberta – $4000 to $12,000, with the majority costing about $6000.00 – $8000.00.
Saskatchewan – The average cost is about $7,775. This includes a traditional funeral, casket and vault. Cemetery costs, the plot, opening and closing the grave and a grave marker can easily cost another $1,500 to $2,500.
Manitoba – A traditional burial (including a casket, funeral and cemetery costs) averages about $7,000 to $10,000. A $100 surcharge applies to graves dug during the winter.
Ontario – $1,500 to $20,000. Personal preference plays a big role in how a funeral will cost.
Quebec – A typical traditional funeral and burial costs about $9,000.
New Foundland and Labrador – Average funeral costs about $8,000, not including cemetery costs, plot, marker or opening and closing the grave, which can all add up to about another $1,500 to $2,500.
Nova Scotia – The average cost of a traditional funeral is $10,495.
New Brunswick – Funerals in New Brunswick cost about $9,000.
Prince Edward Island – Typical funerals and burials are about $9,000.
Funeral Costs Around the Globe
Tokyo, Japan – $1,629 to $80,393 (¥200,000 to ¥10 million)
Mexico City, Mexico – $482 to $11,568 (7,500-180,000 Pesos)
New York City, United States – $8,000 to $10,000
Toronto, Canada – $1,135 to $9,727 ($1,400 – 12,000 CAD)
London, United Kingdom – $7,433 (£4,836)
Beijing, China – $6,905 (42,837 Yuan)
Rome, Italy – $6,767 (€6,000)
Johannesburg, South Africa – $3,218 (40,000 ZAR)
Dubai, United Arab Emirates – $1,906 to $2,722 (7,000-10,000 Dh)
Moscow, Russia – $830 (46,108 RUB)