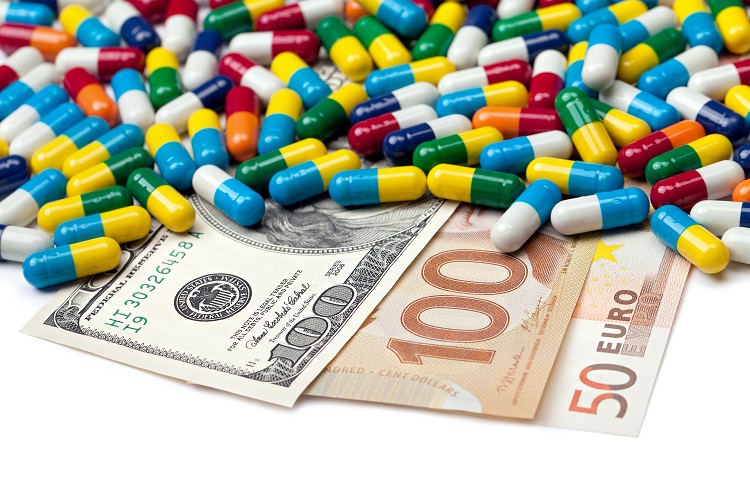 According to a new report from the Canadian Cancer Society, approximately one out of every two Canadians will be diagnosed with cancer during their lifetime, and one in four are likely to die from the disease.
The report estimates that 206,200 new cases of some form of cancer will be diagnosed this year and an estimated 80,800 will not survive. This makes cancer the leading cause of death in Canada.
"Currently, every year we're seeing an increase in the number of cancer cases in Canada," said Canadian Cancer Society epidemiologist, Leah Smith. "So between now and 2030, for example, we expect to continue to see a dramatic increase in the number of cancers diagnosed in Canada. That is a reflection of the growing and aging population," she said. "About 90 per cent of all the cancers that we expect to be diagnosed in 2017 will be among Canadians 50 years of age and older."
Nearly half of the new cases are expected to be in people 70 years of age or older. As the life expectancy of Canadians rises, so does the number of cancer cases.
Mortality Rates Decline
Even though cancer is the number one killer in Canada, mortality rates have actually declined over the past 30 years. Cancer related deaths have dropped by more than 30 per cent in males and about 17 per cent in females.
"Declines in death rates have been largely driven by decreases in lung cancer incidence and mortality, so tobacco control in general has had a big impact on our death rates," Smith said, especially with males, who historically smoked more than females.
Increased awareness, including more screening tests for breast cancer and advancements in treatments have also contributed to survival rates.
Four types of cancer – prostate, lung, colorectal and breast – continue to top the list as the most common forms of the disease. Lung cancer is predicted to take the lives of approximately 21,100 this year, while the other three combined are expected to claim 19,200 victims.
Help Needed for Pancreatic Cancer Research
Some cancers have seen dramatic improvements in survival rates, but that's not the case for pancreatic cancer. This gastrointestinal cancer only sees an eight per cent survival rate. The Canadian Cancer Society estimates 5,500 Canadians will be diagnosed with pancreatic cancer in 2017 and about 4,800 of those will die.
"Unfortunately, we're seeing very little improvement in pancreatic cancer, not just in Canada but around the world," said Smith, pointing out that the report has a special focus on the disease in a bid to raise awareness and designated funding for the cancer.
Radiation oncologist at Princess Margaret Cancer Centre in Toronto, Dr. Jolie Ringash states that treating pancreatic cancer is challenging because tumours typically don't produce symptoms until they reach an advanced stage.
"It's one of the areas where we really have not seen significant breakthroughs in 50 years," she said.
"So the lucky ones are where it's found very early, often by chance because the [patient is] having tests for some other reason and there's a tiny cancer that can be surgically removed. That's the good-case scenario. But unfortunately, the vast majority of these tumours progress within the abdomen, don't cause any symptoms for the longest time, and by the time they're recognized they're very advanced and treatments aren't very effective."
More research is needed to find the cause of pancreatic cancer. By identifying possible causes, scientists could develop early screening tests to detect and treat tumours sooner.
Survivors of breast cancer and prostate cancer, along with their families and friends, hold events and fundraisers to raise awareness and money for research. This doesn't happen for pancreatic cancer, causing the disease to fall below the public radar and not receive the funding needed.
Dr. Ringash says, "We don't have enough survivors out there pounding the streets and doing the walks and raising the money."
Cancer Insurance
Getting insurance after being diagnosed with cancer is possible. CancerGuard is a guaranteed issue cancer insurance product that covers you for up to $150,000 in the event of a cancer diagnosis. No medical exam is required.
To qualify you must meet certain criteria:
Be under the age of 65 at time of purchase
Answer these two questions for coverage up to $50,000
Have you ever been diagnosed with AIDS or tested positive for HIV?
Have you noticed signs or symptoms or been diagnosed with any form of cancer, malignant tumour, lymphoma or leukemia?
Answer two more questions for coverage up to $100,000
Have you had an application for critical illness or cancer insurance declined or postponed within the past two years?
Have two or more members of your immediate family been diagnosed with cancer before the age of 60?
For coverage up $150,000, you have to answer one more question
Has one or more member of your immediate family suffered from or been diagnosed with breast or ovarian cancer, colorectal cancer or familial adenomatous polyposis before the age of 60?
Critical Illness Insurance
You can compliment your cancer insurance with critical illness insurance to cover:
stroke
heart attack
coma
paralysis
juvenile critical illnesses
cystic fibrosis
heart disease
type 1 diabetes
muscular dystrophy
Certain conditions and additions premiums apply. Read the policy carefully for details, limitations and exclusions.
Cancer Insurance vs Critical Illness Insurance
Critical illness insurance is extremely flexible. You could receive blanket coverage for many illnesses, so why would you need cancer insurance?
Cancer is the number one cause of death in Canada. Your chances of developing cancer are far greater than any other disease.
"Cancer is 70% of all critical illness claims right now," says Mark Dziedzic, director of sales for IA Excellence, which sells the cancer insurance product, Cancer Guard. "A lot of people are unable to qualify for a comprehensive critical illness plan because the underwriting is so stringent. It's harder for people to qualify under a standard critical illness policy than it is for them to qualify for life insurance."
Why don't some people qualify for a standard and comprehensive critical illness policy?
"It can be any number of things," continues Dziedic. "It can be family history, weight issues, a past illness that could indirectly affect their rating on a full-underwritten, more comprehensive critical illness product, so cancer insurance is a great alternative for someone who wants coverage, but may not qualify for regular critical illness coverage."
What else does cancer insurance offer that critical illness insurance doesn't?
"Cancer insurance offers coverage from day one of diagnosis of life threatening cancer and with most critical illness plans, there's at least a 90-day waiting period. This is certainly important for people who need medication quickly."
And by only covering one illness, it's much cheaper than traditional critical illness coverage.
Of course, as with any life insurance policy, there are exclusions. Ask an expert to help you find the best policy for your needs.