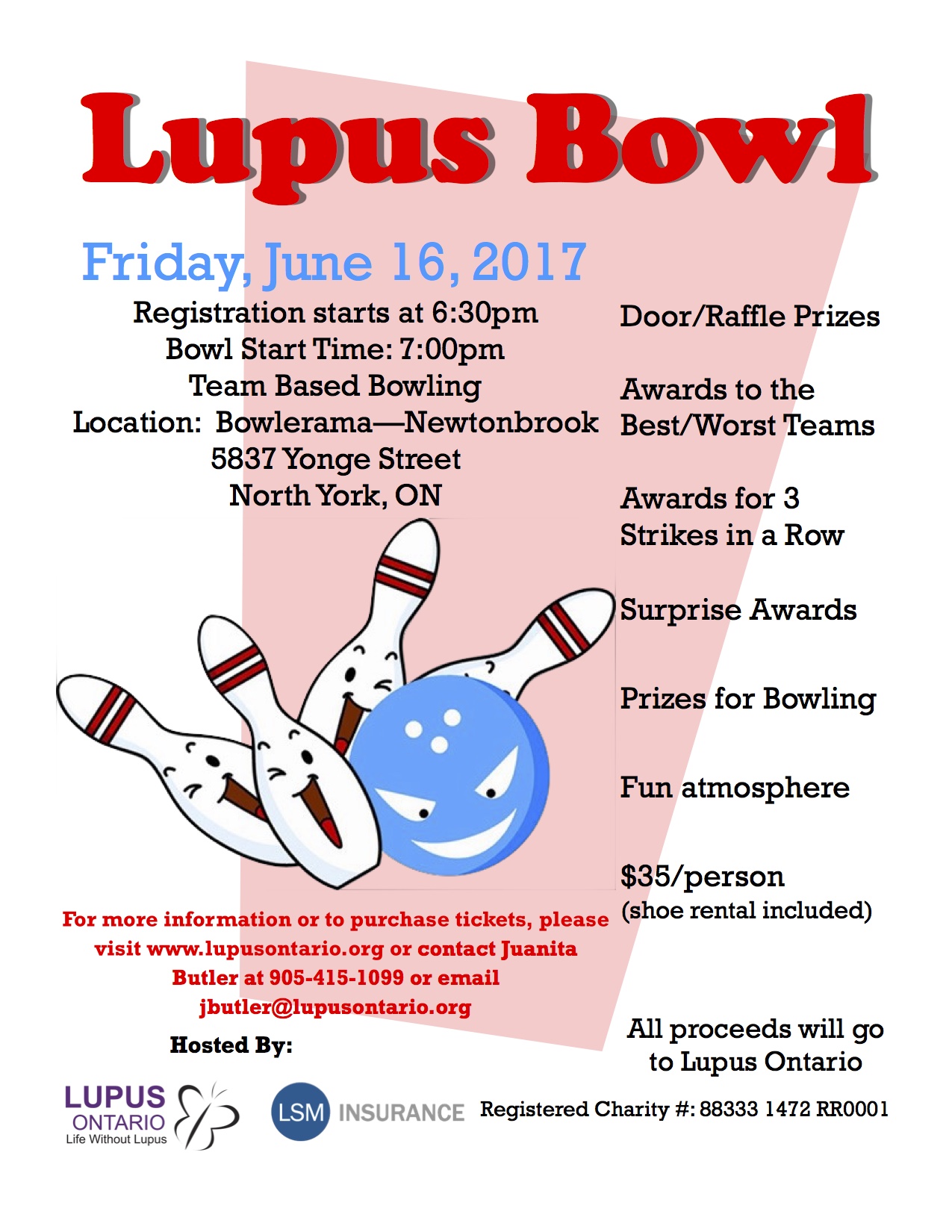 Lupus Ontario and LSM Insurance team up together for the 4th Annual Lupus Bowl on Friday, June 16th 2017. The event starts at 7:00 p.m. with the venue at Bowlerama on 5837 Yonge Street in North York, Ontario.
This year, Lupus Bowl offers fabulous prizes for both individual and team based accomplishments. An individual prize is available to anyone who might be able to bowl three strikes in a row aka a Turkey. A prize will also be granted to the person who is able to bowl the top single-game score of the night. As for team prizes, they will be awarded to the team that bowls the highest score. There will also be a prize for the team who bowls the lowest score. However, the competition will be fierce since the ultimate prize is on the line. Teams will be competing for none other than the coveted LSM/Lupus Cup. We also have surprise awards to keep things interesting throughout the night. There will also be door and raffle prizes so everyone has a chance to win something.
Players who want entry into the Lupus Bowl must make a minimum donation of $35 per person in order to play yet. There is also a $2 shoe rental charge if you don't have your own bowling shoes. Players may also feel free to donate more. Donations are accepted through Lupus Ontario's website here or in-person at the event with a personal cheque. An official donation receipt will be available for anyone making a contribution towards Lupus Ontario. We will also match the first $500 raised for this event. All proceeds from the Lupus Bowl will go to Lupus Ontario. Come out to the Lupus Bowl to enjoy the fun atmosphere and a night of bowling for a good cause.
Learn more about Lupus here!