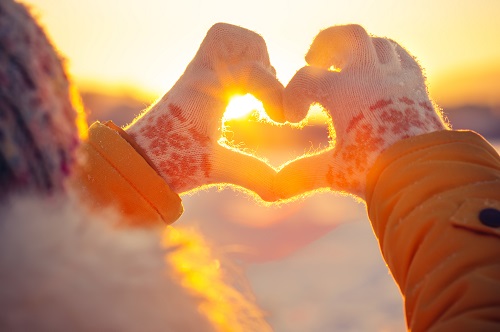 With Valentine's Day fast approaching this Saturday, it's time for you to start thinking about what you'll be doing with your significant other on this occasion.
While having a memorable time with your significant other is the main priority, you should also want to be cost-conscious at the same time. Remember: you don't always have to spend a lot of money to have fun or make your partner feel special.
Let's take a look at eight fun activities that you and your companion can do on a budget.
1. Eating Out
Contrary to popular belief, going to a fancy restaurant on Valentine's Day won't blow your budget if you plan things out the right away.
Typically, wines and other spirits tend to be the most expensive items in your restaurant bills. If you're looking to save a little money, try going to a restaurant that has a "bring your own bottle" (BYOB) policy.
If you're looking to save even more money, consider skipping dessert and heading out to a local café for some ice cream or other sweet beverages.
Many restaurants offer Valentine's Day specials with discounted pricing for couples. If you reside in the Greater Toronto Area, here is a list of local restaurants that are currently offering specials for Valentine's Day.
2. Couples' Massage and Spa
Getting a chance to unwind together with your partner during a couples' massage or spa treatment can be a great Valentine's Day treat.
Not only does this activity provide a chance for both you and your companion to relax from the grind of everyday life, it can also serve as a great bonding session for the two of you.
Many massage and spa parlours offer Valentine's Day specials for couples. Prices vary on time and services provided, but many packages can cost less than $150.
Here's a list of spa and massage parlours in the Toronto area that are offering Valentine's Day promotions.
3. Watching A Movie
When it comes to doing an activity as a couple that doesn't cost much, nothing beats going out to see a movie.
Many theatres screen romantic films meant for couples on Valentine's Day. They also have special holiday hours and prices to celebrate the occasion.
For example, The Royal Cinema in Toronto will be screening "Dirty Dancing" and the Carlton Cinema will be screening "Eternal Sunshine of the Spotless Mind" on Valentine's Day.
Following the movie, you could round off your date by a getting a late-night bite to eat from a café or eatery.
4. Outdoor Activities
Doing some recreational outdoor activities with your significant other is a great and often inexpensive way to have fun and bond together.
Take advantage of the winter season and head out to a local rink for a day of skating. Or, if you're feeling more adventurous and want to spend a little more money, head out to a ski resort for the Valentine's Day weekend.
If you're located in Southern Ontario, consider booking a trip to the Blue Mountain resort. There, you can enjoy downhill skiing, snowboarding and breathtaking views of the local scenery.
5. Watch An Opera or Stage Play
Taking your special someone to an opera or a play is a great option on Valentine's Day if you want to do something romantic together.
While they're often light on action, many operas and plays deal with themes of romance and heartbreak while featuring lots of drama that women generally like.
Many contemporary books and movies also have an opera or a stage play rendition. Do your research and find out what your date likes. Chances are that you'll find something that matches your valentine's tastes.
The Four Seasons Centre for the Performing Arts in Toronto is staging several operas during Valentine's Day weekend, including "Don Giovanni" and "Die Walküre".
6. Visit a Museum or Art Gallery
Going to a museum or an art gallery is always a safe and inexpensive option when it comes to doing an activity with your partner.
A museum or an art gallery visit will also allow you to better connect with your significant other and learn more about their interests.
Most museums and art galleries will have discounted or even free visit days. Some also offer special pricing for holidays.
The Royal Ontario Museum is a great destination if you reside in the Greater Toronto Area. The Ontario Science Centre is also a good venue to visit if you or your partner are interested in science and technology.
7. Go To A Karaoke Bar
For those who don't know, karaoke is a form of singing along to recorded music using a microphone and speakers.
Going to a karaoke bar is a great way to relax and bond with your partner. It's also relatively inexpensive, and shouldn't cost you more than a $100 for two (depending on how many drinks you buy). Costs can also vary if you choose to perform on an open mic or go to a private room.
Belting out a karaoke tune (preferably a romantic one) in front of an entire karaoke bar can be a surefire way to impress your significant other.
Here is a list of some of the top karaoke bars in the Greater Toronto Area.
8. Stay At Home
If you and your companion are always busy and never have enough time to spend together at home, then maybe staying home for a little private bonding time during Valentine's Day is the best (and most cost-efficient) idea for you.
Spend the day cooking, watching TV, redecorating the house or doing other indoor activities that you and spouse enjoy the most.
If you'd rather not cook, then ordering take-out is always a great option. Try to replicate a restaurant atmosphere during dinner time. Bring out candles, wear formal clothes, etc.