William Shung
Senior Insurance Advisor | LSM Insurance
1.What type of Critical Illness insurance do you own?
I own a permanent level premium critical illness insurance policy.
2.What factors did you consider when determining the coverage amount?
The purpose of critical illness insurance is to provide for unforeseen expenses. Most importantly, the insured amount should be sufficient to finance any treatment required if diagnosed with a critical illness. When deciding on the coverage amount, I looked into any liabilities that needed to be protected and ensured that I am sufficiently covered. The amount of coverage should cover treatment costs so it would not penetrate my retirement savings.
3. Do you think people underestimate the importance of Critical Illness insurance and if so why?
In spite of the high incidence of being diagnosed with a critical illness during one's lifetime, the demand for critical illness insurance falls short of expectation. The reasons for this low demand can be attributed to high cost and strict underwriting requirements. With insurance, high cost means high risks and because of the high risk, we should really give more weight to critical illness insurance in our financial planning.
4. What are some limitations or exclusions should people watch out for?
There are usually 23 covered illnesses to a critical illness plan. In order to be eligible for claim, you need to survive a 30 day waiting period. We should distinguish between the 30 day waiting period and a 90 day exclusion period for certain illnesses such as life threatening cancer and a benign brain tumour.
5. If you had to choose between Critical Illness and Life Insurance which one would you choose and why?
Life insurance is for protecting our liabilities, assets and for taxation purpose. Critical Illness insurance is a living benefit to cover our illness treatment cost such that it will not affect our lifetime savings.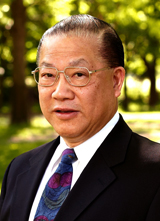 William Shung was born in Johannesburg, South Africa. As former life insurance and long-term care advisor for the Knights of Columbus – the world's largest Catholic fraternal service organization – he is well versed in the changing needs of Canada's aging population. He holds both an Elder Planning Counselor and a Fraternal Insurance Counselor designation and is able to advise on a variety of insurance plans including life, long-term care, critical illness and disability. In a former life, he was a renowned marketing and advertising guru. He held directorial positions in several multi-national advertising agencies and visited Southeast Asian capitals such as, Manila, Bangkok, Kuala Lumpur and Singapore on their behalf. William is fluent in both English and Chinese.