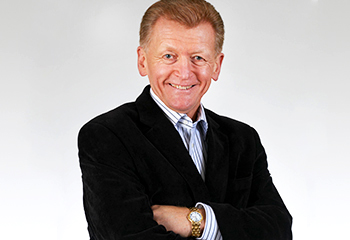 Jim Ruta
President at Advisorcraft Media.
1. What type of life insurance do you own?
I own a combination of Whole life, Level COI Universal Life, and Term Insurance valued in seven figures. Frankly, I wish it were all Whole Life, but I didn't quite understand the value of Whole Life until the cost for the amount I wanted was out of reach. Now that I have been in the business for more than 35 years, it turns out that all the stories I was first told about life insurance were true. It truly is an amazing product. The only complaint most people ever have about owning Whole Life is that they didn't buy more when they had the chance. Today, my Whole Life insurance pays me more than I pay it. I love that stuff. I wish I had bought more too.
Someone told me years ago that sufficient life insurance gave your widow "a better choice of daddies for your children." It's dark humour, but it made sense to me. To me, life insurance is not about what you need to provide a lifestyle for your family, but about what you want for your family. How I leave this world matters to me, so I want to be sure that my survivors can live in the world I created for them or planned to create for them. Life insurance bought me the time I needed to build up our lifestyle and my legacy. I knew I could do it if I had the time. Life insurance ensured the money was there either way. Now that I am likely uninsurable, my insurance is more valuable than ever. Life insurance is our largest unmanaged asset, but I wish I had reviewed it more often to adjust the premiums and coverages more effectively.
3. Do you believe in life insurance for children?
Yes, and I bought it for all three of my children. There are "standard" reasons like buying an adult's policy at kids' prices, guaranteeing future insurability, and creating a guaranteed savings vehicle. But there are others. First, the whole life I appreciate so much today will not likely be available in the future, so I bought the most traditional whole life policy I could find for my youngest daughter. The built-in values and benefits in older plans already can't be bought at any price today. Finally, when the mother of my oldest children died, I experienced terrible pain. But losing a child would be unbearable grief. My family and I would need time to come together and heal. So, rather than benefitting from the death of a child — as some suggest you would — life insurance just gives us the time to grieve and recover without undue financial pressure. That's how the product "assures" life goes on.
4. What is the biggest life insurance mistake people make?
Advisors and consumers make the same mistake — they think insurance amount is a technical question. It isn't. It's an emotional issue about what you want for the people and causes that matter to you. Too many buyers and prospects use their "head" to buy life insurance when they should at least factor in what their "heart" feels about it. Life insurance is not a logical decision. If you buy what you "need" today and then live for another 40 years, with inflation, tax, and economics, you'll likely have too little. If you buy what you need 40 years from today and then die tomorrow, you'll likely have too much. So, you'll be wrong one way or the other — you can either be wrong to your family's benefit or detriment. Why not be wrong to their benefit? That's an emotional, heart decision. Life insurance is a character product. If you have it, you buy it.
5. What other types of individual insurance products are often overlooked?
Life insurance agents used to have three jobs: to help people protect against the financial uncertainties of "living too long," "dying too soon," or "getting disabled along the way." That meant creating a retirement income, providing a sufficient life insurance estate for their family or business responsibilities and creating a tax-sheltered income stream in the event of severe illness or injury. Over the years, the industry has gotten stuck on the first need and pretty much abandoned the other two. Life and living benefits insurance have been marginalized and minimalized to the point where so few people sell or buy it today. It's a big gap. Overlooked, it can be devastating to a family. Critical illness and disability insurance in particular need to be reviewed along with life insurance, so that consumers know what they have, why they have it, and what it does for them."
Jim Ruta is an advisor coach, speaker and media personality. He has appeared on CTV, BNN, and VoiceAmerica.com Business and spoken to some of the world's top advisor meetings, including the Main Platform of the prestigious Million Dollar Round Table.

He is the author of several best-selling advisor development books, writes for popular advisor publications, is quoted regularly in The Globe and Mail and hosts Ruta's Rules, the popular weekly video program on InvestmentExecutive.com's IE:TV.

Today, Jim is Managing Partner of InforcePRO™ Software, an international insurance policy analysis, management, and instant client presentation service based in Boston.