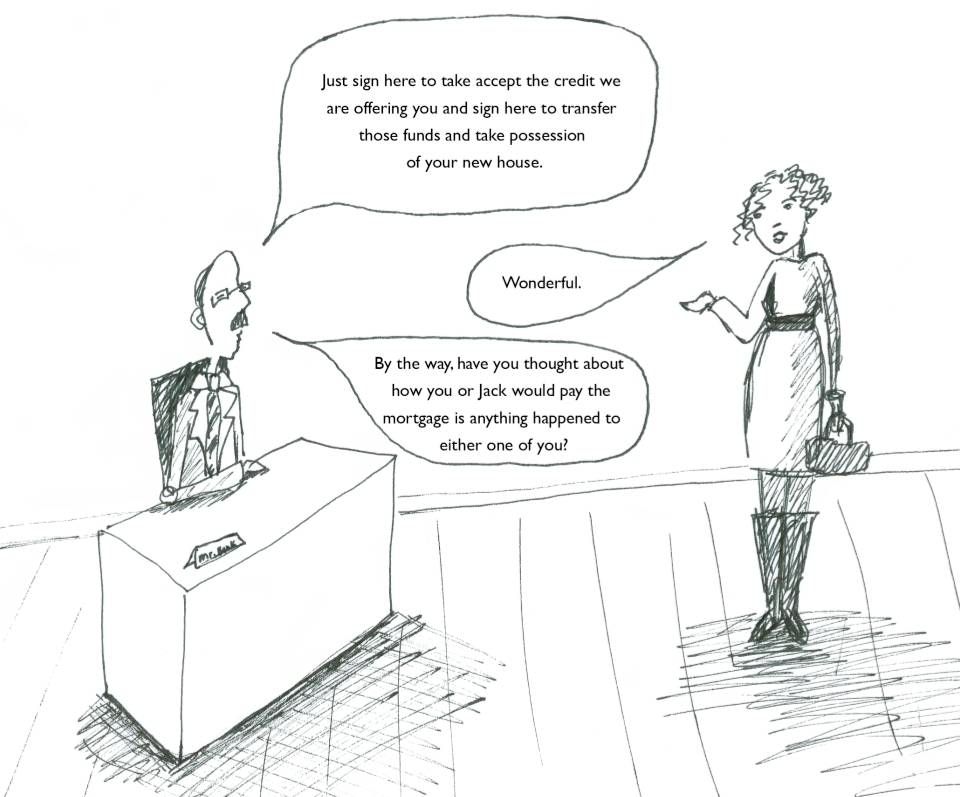 We've investigated and advised against mortgage insurance for years here at LSM Insurance, and it mostly comes down to one dastardly component of how it works — post-claim underwriting.
Mortgage insurance is typically sold by banks when you get your mortgage as a means to pay off your mortgage when you pass away. However, the approval for the policy is done after you've already been paying the premiums, and often, people are denied coverage at the time they need it because the underwriting is done at the time of claim and they find themselves no longer qualifying for the policy.
LSM is not the only organization decrying mortgage insurance and the practice of post-claim underwriting. Many of Canada's most prominent financial experts and publications have joined the chorus against mortgage insurance and post-claim underwriting. Here's what they are saying.
Ellen Roseman
Ellen Roseman of The Toronto Star actually helped a couple she wrote a column about get the coverage they thought they had after they'd been paying into the policy they were denied for years. 
In her blog, she explains many of the misconceptions that rope unsuspecting regular people into the mortgage insurance and credit card balance insurance game.
"Many people don't know they have credit balance insurance, since they don't believe banks use negative option marketing. The information about having to cancel the insurance to stop it is slipped into a package you get along with the card," she writes. "Sometimes, borrowers feel they have to buy the insurance or lose the loan. The banks make you sign a waiver form, saying you're on your own if you get sick or die. Now that's pressure."
Her advice is: don't buy insurance from the banks, but instead, buy a regular life insurance policy from an independent broker, as the underwriting will be done before the policy is approved and before you must pay the premiums.
Bankrate
In an article for Bankrate.com, one financial expert said that focusing on insuring for the mortgage is relatively myopic.  
"You ought to think about financial planning more globally. Whether to pay off the mortgage upon a breadwinner's death is a question you can't answer unless you're taking a comprehensive look at the family's finances," said Vernon Holleman III, president of The Holleman Cos., a financial planning company in Chevy Chase, Maryland.
MSN Money
MSN Money listed credit card insurance among its "Five Ridiculous Rip-Offs You Can Avoid," calling it "junk insurance" and saying the products are overpriced and full of hidden traps that make the coverage hard to use.
Money Sense
An article in Money Sense also points out that mortgage insurance policies are non-transferable, and once you move, it is automatically cancelled. The policy is usually capped at $500,000, and that's usually too low for the mortgage.
Another drawback is that the monthly premiums are the same throughout the policy term, even though the potential payout shrinks.
The example they give is, if a homeowner with mortgage life insurance dies after ten years of payments on a $250,000 mortgage, the lender would pay approximately $185,000 to cover the remaining mortgage debt. If that same homeowner died 20 years into making payments, the payout would be only $77,000.
Dave Larock
Dave Larock, The Mortgage Planner, says he'll never sell mortgage insurance because, as he says about post-claim underwriting, "If you had previously answered any of the application questions incorrectly, your claim could be denied — and this can happen more easily than you think. The questions are generic, broad, and multi-dimensional, and since the vast majority of mortgage advisors are not licensed to sell insurance, we can't clarify or answer any questions you may have. When you complete the form, you are approved to pay the premium, but you are not approved for coverage the way you are with traditional life insurance."
He also doesn't like the way the policy is tied to both the bank and your property, but that's just to start. Read his article on the subject for the rest of his gripes.
The Toronto Star
In an article asking what is best between life insurance and mortgage insurance, the Toronto Star comes down firmly on the side of regular life insurance with the reporter writing the following pros and cons:
Cost: Premiums on mortgage insurance are typically higher than on term life insurance.
• Convenience: Insurance through your lender can usually be arranged quickly and easily when you sign your mortgage papers. Term life insurance involves more time and effort.
• Portability: If you change lenders or sell and buy a new home, you'll have to apply for a new mortgage insurance policy. Term life insurance, however, stays with you.
• Payout: With bank insurance, the amount of coverage and subsequent payout if you die decreases with your mortgage balance. But the amount of term life insurance stays the same throughout its term.
Mark Halpern
Financial expert Mark Halpern warns that mortgage insurance is "bad for your fiscal health" and argues life insurance is better because the payout doesn't shrink over the life of the policy, there is no post-claim underwriting and you can transfer the policy to wherever you live.
The Big Cajun Man
Financial blogger The Big Cajun Man is also not a very big fan of mortgage insurance calling it an "out and out rip-off" and listing a number of questions you should ask before you buy it:
"Ask your Bank/Loan company how much their insurance vehicle for the debt/mortgage costs.
"Go to an insurance company (in Canada you can even go to the Insurance company associated with the bank), ask them how much it would cost for a rolling 5 year term insurance policy for the amount owing on your mortgage.
"Most times the term insurance will be cheaper (if not every time), so this is the first reason not to buy your lender's mortgage insurance service.
"If you want to have fun, ask your lender if your insurance rates drop, while you pay down the principle on your loan? My guess the answer to this is No, so you are actually paying the same amount for an insurance policy with dropping value."
Syed Raza
Finally, LSM Insurance's own Syed Raza outlines all the reasons not to buy into mortgage insurance. Take a look at them here.