"The most recent data available shows that the growth of group critical illness sales was seven times stronger than the group insurance sector as a whole." These findings were published by the Fraser Group, an organization that has compiled statistics on the group insurance market in Canada for several years.
Ken Fraser, president of Fraser Group, says that the product is currently enjoying increasing momentum. "Our limited research indicates the rate of new sales is quite strong, around 10%, at least up to 2008. The total market shows net sales after cancellations of l.5%," he reports.
It is important to put these results in perspective: Fraser has been tracking group critical illness insurance (CI) sales for only a short time. "Up to recently, the amount of premiums has been negligible compared to traditional group life and health products. Currently, we estimate total market premiums at $25 or $30 million annually (because group insurance is renewed each year), which is only 0.1% of the total group benefits market," Mr. Fraser says.
A Fraser Group study published in 2008 found that the number of group CI policies was growing faster than total new premiums. This shows that sales come from programs with a low average premium, Mr. Fraser continues. These include programs directed at smaller employers or set up on a voluntary basis (optional programs). In these programs, only some of the employees opt for the CI guarantee in their group plan.
The group CI product was fairly immune from the economic slowdown, Mr. Fraser continues. "Group insurance is based on people who have a job. Many people who lost their jobs didn't have benefits to begin with. The group insurance industry lost maybe 2% to 3% in revenues in 2008 compared to 2007. On the other hand, claims are going down because the economy has dropped, mainly for health and dental coverage".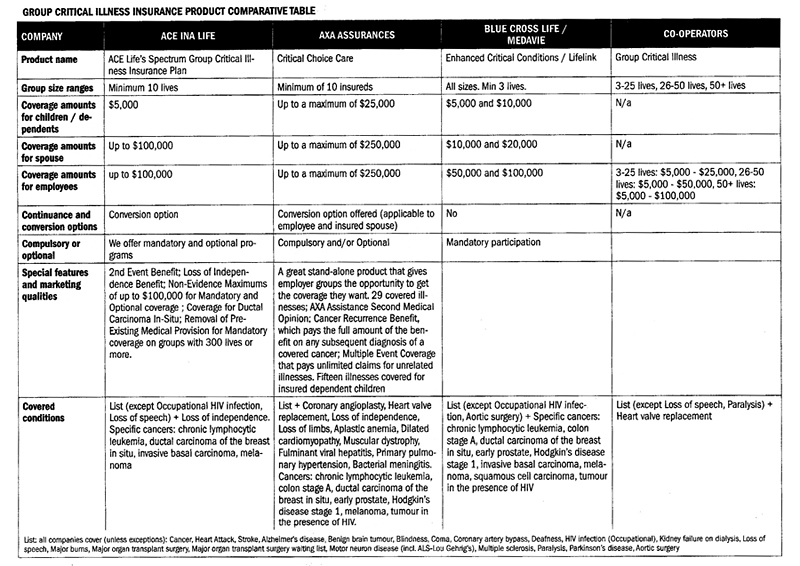 Despite the increase in sales, insurers are reluctant to disclose sales results in this sector. The distribution network is sending mixed signals: some trumpet success while others see a slowdown taking shape. (See inset text p.l6).
Members of LSM Insurance team say that product sales at their firm soared by over 25% in the past twelve months.
"About a third of our groups are going with the critical illness coverage. The group CI market is working well for our brokers because more and more people are looking at critical illness products," they say.
In group insurance, unlike individual products, there is no rigorous risk selection. An employer and its workforce can obtain guaranteed basic protection regardless of medical family history. In addition, group coverage in critical illnesses guaranteed and can be provided at a discounted premium. Often, the savings can be 30% below that of an individual policy, the LSM Insurance website states.
The economic situation has even spurred sales. In a way, the economic situation is helping us because people want to make sure they get the most for their employee benefits dollar. The organization giving the benefits wants to create the most value for their members to make employees happy. That is why we are getting a lot of inquiries on that product," they add.
It is necessary to point out that during a recession, people are more anxious. They feel more vulnerable to illness and want to get proper protection. Employers that add this protection offer employees peace of mind that boosts productivity. They can then keep key employees on board.
Group critical illness business is also thriving at Groupe Sage, a Quebec-based managing general agency specializing in employee benefits. President Denis Plante pins this trend on a combination of two factors. "The cost is very low and clients are becoming increasingly familiar with the products."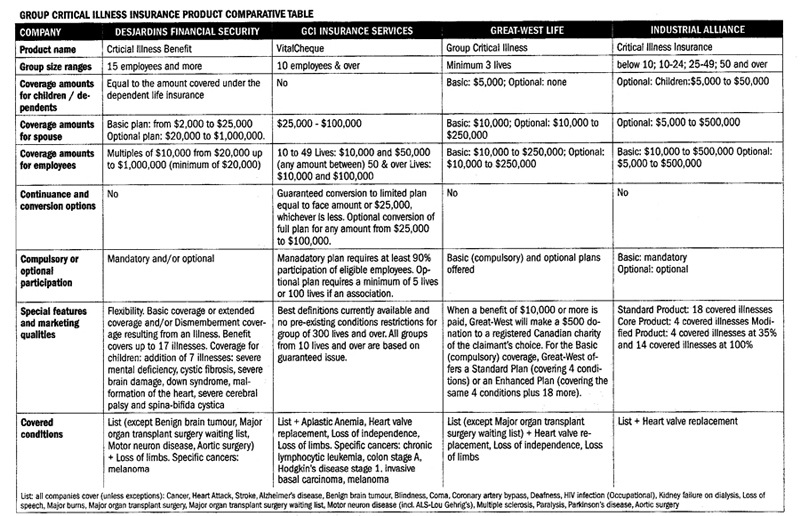 Aside from the low price, this new interest in the group CI product is fuelled by the success of the individual product, Mr. Plante continues. The need for the group guarantee is also reinforced by the fact that many Canadians have had their applications for individual Cl turned down. "Risk selection is difficult in individual critical illness. Company owners that were refused are very receptive to our arguments about the possibility of insuring without proof of health," he explains.
A typical Sage offering: a group of 500 employees, each of whom has guaranteed mandatory coverage of $5000. Employees can access an additional optional guarantee to increase their coverage to between $10,000 and $100,000, depending on their means. "We often see top managers purchasing $50,000 in coverage," he says.
In 2010, Sage will highlight the optional guarantee by systematically offering it to all groups. The firm also plans to significantly develop the market for mandatory and optional guarantees alike, thanks to an agreement with a niche insurer.
Insurers were noticeably silent when asked about their results. Let's take a look at the RBC Insurance product. A strong selling point is that, it provides individual coverage that employees can transfer when they leave their job. They then keep their coverage at the same price without having to give proof of good health, LSM team explains. (Note: This product is not included in the Group CI Product Comparative Table since it is sold to individuals within a group.)
Although the company's product is winning some praise from distributors, Ian Jack, Living Benefits Actuary, product development and pricing at RBC Insurance stops short of calling it a wave. He would only refer to increased awareness and calls the product "an emerging competitor".
Mr. Jack confirmed though that RBC Insurance is a market leader and named GreatWest Life as one of its main competitors. He refused to disclose sales results in the niche, but says the company's target is primarily companies below`500 lives, but it is also active in the over 500 life market.
"It is sold by a relatively small number of advisors. The product requires a unique sales process, and following the sale there may be additional administrative requirements that some advisors are unable or unwilling to provide," Mr. Jack says.
He points out that comparisons with group contracts or premiums are generally inappropriate. The product is an individual contract, although the risk selection is not as complete.
ACE INA, a CI specialist, declined to disclose its sales volume or its 2010 objectives, but it is surfing on a wave with its Spectrum product, Eddy Levy, Vice President, Sales and Marketing, Accident & Health confirms. "The interest is rising. It's reflected in production that we received from advisors in this niche. Our business block in group critical illness increased from 15% to 20% between 2008 and 2009," he says.
One of Spectrum's key strengths is its flexibility, Mr. Levy adds. "Employers can pay for mandatory minimum coverage of $10,000 and offer employees the option of additional protection. That's the way we sell it."
The concept is appealing, because it is generally quite affordable. Overall, the plan costs are fairly low because it is very rare to see programs that provide each employee with coverage of $100,000, Mr. Levy explains. Group Cl protection at ACE INA averages at around $20,000 to $25,000 per life insured.
Sun Life Financial mirrors the trend even if the average for its product line is higher at $25,000 to $50,000 per employee on average. "Very few employees ask for a coverage amount that exceeds the guaranteed issue protection because they do not want to complete the medical questionnaire," Alain Gobeil, Account Manager, optional guarantees at Sun Life, says. This explains the low average coverage. A Munich Re survey in 2006 found that average insurance coverage for the individual CI product was about $94,500 and the average annual premium about $1200.
Many sources say that Sun Life has energized this market, long populated with small niche players, by becoming one of the first large lifecos to openly promote it. The campaign began in April 2008. "We put in place a dedicated structure for this niche," says Mr. Gobeil, who played a central role in this effort.
As for the results of this campaign, Sun Life is keeping its sales figures to itself. "We do not publish our results. It is still a very new business sector," Mr Gobeil says. He did confirm that 2009 was the best year so far in the critical illness insurance niche. "2010 looks even better because some clients approached in 2009 had put off their decision until this year," he adds.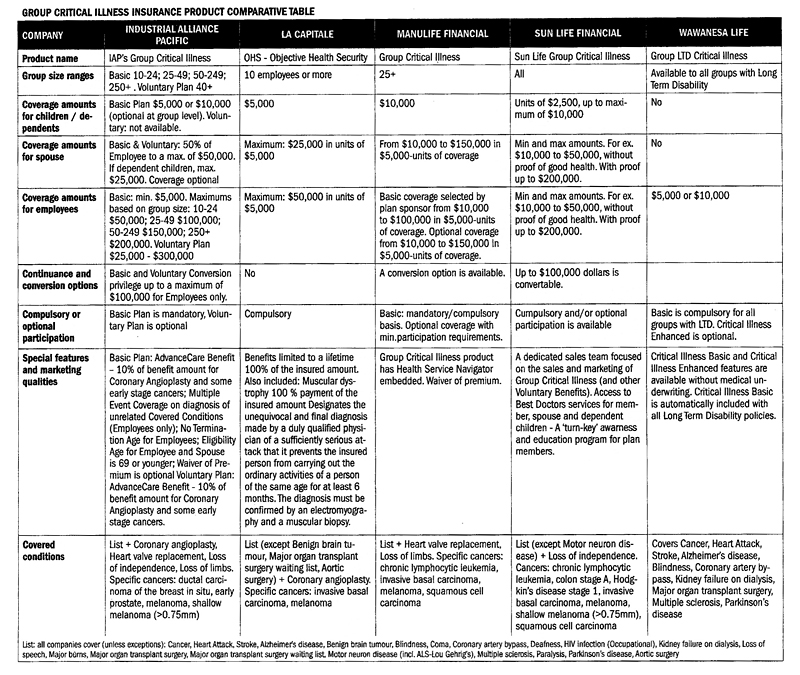 by Alain Thériault