Introduction
Infinite banking is a very interesting financial concept that uses whole life insurance to execute on a number of financial operations that are typically available only through a bank. This is why the infinite banking concept is sometimes called "being your own banker." The concept won some popularity in the U.S. and also in Canada. In this article, we asked one of the leading Canadian experts on this topic, Glen Zacher, to share his experience and knowledge.
What is infinite banking?
Dividend-paying whole life insurance offers the characteristics of the basic banking system by being the depositor, borrower, banker, and the bank owner. This is a unique type of life insurance that has many more attributes of finance than attributes of a death benefit. Where else can you grow your savings by receiving dividends and interest while being able to use this cash value as collateral to access policy loans from the life insurance company without ever interrupting the compound growth of your savings?
The whole idea is to recapture the interest that one is paying to banks and finance companies for the major items that we need during a lifetime, such as vehicles, major appliances, education, homes, investment opportunities, business equipment, etc.
Your need for finance during your lifetime is much greater than your need for protection. Solve for this need through this instrument and you will end up with more life insurance than the companies will issue to you. Almost everyone is familiar with the fact that you can borrow from a dividend-paying whole life policy, but because of the little premiums they pay, there is limited access to the money to finance the major items that are needed during a lifetime. Yet, the need for financing for the typical person is extensive. Really, all this process adds to the equation is scale.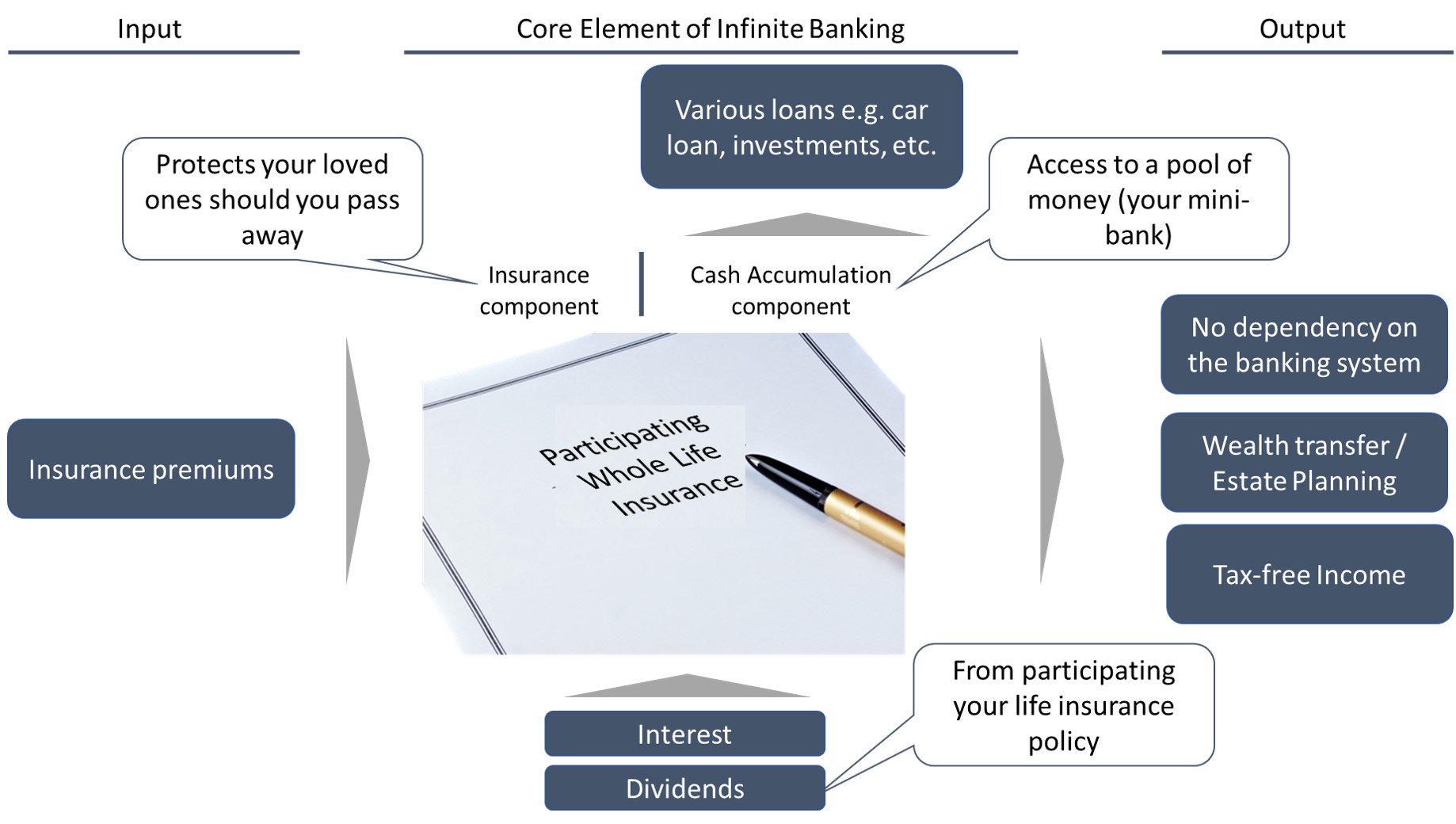 What is whole life insurance / participating whole life insurance, and how does it empower infinite banking?
To truly understand the ins and outs of infinite banking, let's first learn about whole life insurance and what makes it different from term life insurance.
Whole life insurance is a form of permanent insurance. As long as the premiums are paid, it does not expire. It also comes with a savings component – part of your premium goes into a cash savings account that accumulates value over time. You can receive the cash when you surrender the policy, use it to enhance the policy, or borrow against the cash.
Since whole life insurance is permanent, it presents greater risk for the insurer. Therefore, it has a higher premium than term. However, when one balances the fact of this against the fact that term insurance gets increasingly more expensive as one ages, and term doesn't come with cash savings, the value of whole life insurance is clear.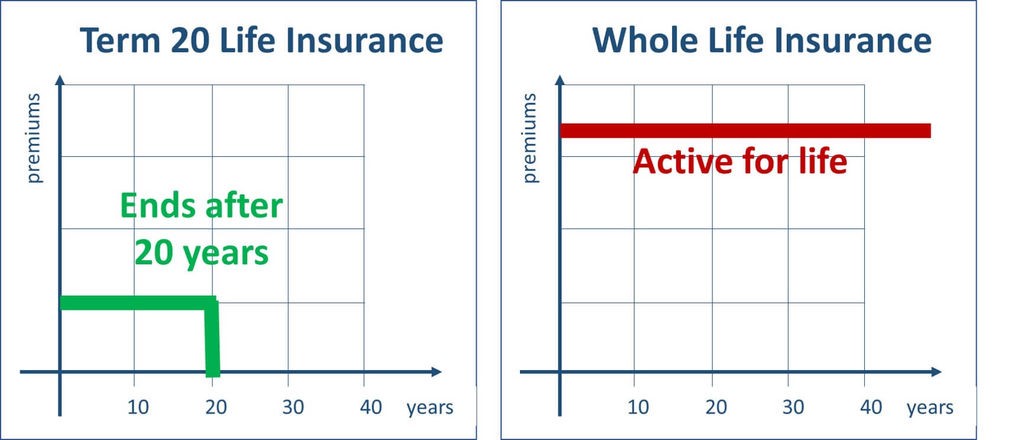 Within the whole life insurance sphere, there are two variations: participating and non-participating insurance. Participating policies return dividends to the policy holder that can be used to pay your premiums or increase the amount of the benefit. This is why participating policies work so well for infinite banking. Note, however, that participating policies are typically more expensive than non-participating, and that dividends are not guaranteed.
What are the advantages of infinite banking?
One of the advantages of the infinite banking concept is having access to capital without the traditional process of applying for a bank loan. This approach can be used to eliminate consumer debt and recapture all of the payments you are presently transferring away from your household, create a tax advantaged retirement income, buy vehicles, and much more.
If you learn this process and practice being the banker in your life, you will ultimately be in a position to finance everything with this process and grow your cash values at the same time. To be specific, there are four benefits of infinite banking:
Control 100 per cent of your money and be able to access capital without having to go though a standard loan application.
Ability to make unstructured payment versus a more rigid payment system.
Once a dividend is credited to the cash value, it is vested with the policy holder and can never lose value or be taken away.
Participating whole life insurance is a great way to transfer wealth to another generation.
Numerous financial benefits, such as consistent high rate of return, liquidity, guarantees, tax advantages, no market volatilities, creditor protection, inflation proof, no fees or penalties, etc., could work in your favour (depending on the specifics of the policy).
Infinite Banking: Key things to watch out for
These insights have been shared by Philip Setter, an insurance and investment professional based out of Calgary, Alberta. Find out more about Philip here.
There are six important things to watch out when considering infinite banking as one of your strategies:
Interest is higher than your returns. When using a policy loan to withdraw funds from a whole life product, the interest will most certainly be more than you are earning within the policy. Most policy loans range from 8%-10% while returns range from 4%-6%. This means you're eliminating the arbitrage of leveraging a policy for greater future value.
Policy loans can become taxable. The Adjusted Cost Basis (ACB) of the life insurance policy will decrease over time as the Net Cost of Pure Insurance (NCPI) increases. Any policy loan in excess of the ACB of the policy will be 100% taxable to the individual. In the early years of a policy, there will be a high ACB, but in future years the ACB will decrease. This will result in taxable policy loans being charged at a high-interest rate mentioned in point 1.
Third-party loans are difficult to obtain. If a client chooses to apply for a third-party collateral loan when the ACB is too low and the policy loans have become taxable, there are more complications that arise. Most lenders want to see minimum loan amounts of at least $500,000. Some companies will go lower, but the interest rates, conditions, and loan to value are not preferential and may make the strategy obsolete.
Not suitable for clients looking for short term results. In the early years of the policy, there will be little cash surrender value to borrow. This means that the client needs to understand that this strategy will not have immediate short-term results.
Bad credit and poor cashflow can destroy this strategy. This strategy requires a fair amount of maintenance involving the policy and the client's financial situation. The client will need to maintain good credit and cash flow to qualify for ongoing loans. The policy's Cash Surrender Value, Adjusted Cost Basis, and policy loans will need to be tracked along with loan repayment deadlines.
Client needs to fully understand this strategy. Because of the complications of the strategy, full understanding is required on the part of the client. Most advisors will most likely not be around in the future to assist these clients with the maintenance of this strategy. This will mean that it's up to the client to fully understand the ongoing policy requirements as well as repayment deadlines.
What are some of things people should consider as they become their own banker?
It is important to work with an advisor who knows and understands this process. There are several ways to structure this system, so it is important to be clear on a person's financial objectives; meeting those objectives forms the basis of infinite banking. The policy is not designed with the intent of seeing how much death benefit you can purchase with your premium deposit; it is just the opposite. It is advisable to consider:
Working with advisor who understands the mechanics of the underlying tool. The participating whole life policy must be structured properly in order to receive tax efficient income and minimize any potential taxes.
Understanding the difference among insurance carriers. Certain insurance companies are going to be a better fit depending on the individual's needs and circumstances.
Above all, getting started now is important. The longer you wait, the more you have penalized yourself.
What are some of the differences between infinite banking in Canada versus the United States?
There's no difference in the process. There are only small differences in the anatomy and utilization of the product (the policy or system of policies). That is another reason why we stress the importance of working with a certified financial advisor. There are several minor infinite banking concept elements that work differently in the US when compared to Canada. For example, in the US, the policy loans are not taxable. In Canada, the policy loans are taxable above the adjusted cost base. That is why it is so crucial to work with an advisor who is well trained in the banking concept, and who can properly design the underlying participating whole life policy.
The implementation of this strategy works extremely well here in Canada, and it is important to work with an advisor that understands this process.
Is there a specific insurance carrier in Canada you recommend for the infinite banking concept, and if so, why?
Equitable Life of Canada is the largest mutual life company in our country. It is always recommended that specifically designed infinite banking policies should be acquired from a mutual life company, meaning the dividend paying participating policy holders actually own the company. Equitable Life began issuing participating policies in 1936 and have declared and paid dividends each year since 1936 without interruption.
Suffice to say, there are many demutualized companies in Canada who provide the correct anatomy of participating policy designs for someone to properly implement the process.
Those carriers include;
In a stock company, management control rests with the stockholders; they elect a board of directors who, in turn, select executives to run the company. The participating policy holders participate in the divisible surplus generated by the participating account.
In a mutual company, the policy holders own the company and participate in the election of the board of directors who, in turn, select the executives that run that company. The participating policy holders participate in the divisible surplus generated by every line of business the insurer operates in. There are no stockholders to share the profits with.
The divisible surplus is distributed in the form of dividends. In a mutual company, the sole beneficiaries are the participating policy owners. In a demutualized (or stock) company, the beneficiaries also include stockholders.
Another big difference between a stock and mutual insurer is that a mutual company cannot sell shares of stock. Consequently, the mutual company must rely on retention of earnings or borrowing from its own surplus in order to raise capital.
More about the author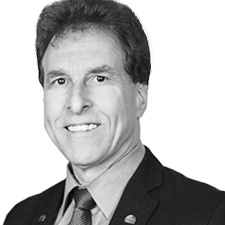 Glen and Margaret Zacher founded McGuire Financial and they have developed a very unique approach to helping people Find Money that they are currently losing unknowingly & unnecessarily.
Glen has coached many of the top Advisors in Canada, giving them the necessary tools to succeed in their careers.
Glen hosts the "Talk to the Experts" – AB #1 Talk Radio show. He has been heard on radio in Edmonton, Calgary, Kelowna, Toronto. Glen has been featured on the Corus Radio Network, 630Ched, NewsTalk 770, Shine105.9, AM1150, TheBear, 640AMGlobalNews, TSN1260AM, & Equitable Life of Canada. Glen regularly appears as a speaker "The Wealthy Entrepreneur" seminar for Doctors, Chiropractors, Dentists & Business Owners.
Glen is a Certified Financial Planner (since 2000) and has received high honours from Canada's Top Investment & Insurance companies, also rated as Top Three Best Financial Services in Edmonton.
The book "The Bankers' Secret," co-authored by Glen Zacher and Jayson Lowe, provides financial tips and strategies for retirement planning, recapturing the interest on big loans, and becoming your own banker.
Glen is a member of FP Canada & Million Dollar RoundTable (Top of the Table Member). Glen attends several coaching & educational events – Strategic Coach, Circle of Wealth, Glazer Kennedy,
Training Business Pro's, Elite MM, Coach Blueprint, AICPA, IDCWIN, etc.
Glen leads the industry with public educational events, recently – Retirement Ready or Not – as well SuperConference, Ultimate Wealth Day have featured guest speakers – R Nelson Nash, Robert (Bob) Shiels, Robert Murphy, Paul Tobey, Brent Kesler, Mark Guthrie & Mike Riley.
Pic source: https://steemit.com/ibc/@johnmontoya/business-testimonial-for-the-infinite-banking-concept