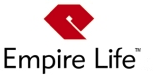 Empire Life Term 100 policies are available with or without cash values.
These are some additional features of the policy:
* It is available throughout Canada.
* Issuing ages are 0 to 85.
* It Uses age nearest pricing
* The policy fee on the plan is $60.00 per year, but if the insured has an existing policy with Empire, the policy fee is reduced to $30.00 annually.
* The minimum face amounts of $25,000 or $500 of annual premium.
* The policy is available on a Joint first-to-die or last-to-die basis or on a multi-life basis.
* There are no preferred rates on the policy.
Below is an example of the pricing for a 60-year-old male non-smoker.  (the premiums and features of this policy have changed since this article was written)

$100,000 No Cash Value – $205.00 a month
$100,000 With Cash Values – $217.98 a month – cash value activated in year 20 – $32,300
Paid-up life insurance value in year 20 – $54,576
For more details, you can contact us at 1-866-899-4849, or visit our Whole Life Insurance Instant Quote Page.