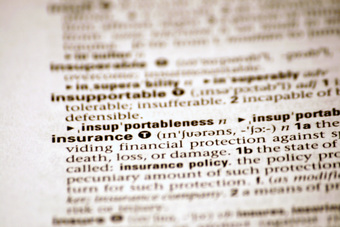 Sometimes it's easy to make the following mistakes when you make a term life insurance purchase, or it could be that you didn't do it right.
Most clients are unfamiliar with life insurance and usually require the assistance of an agent to aid them in the process. In our previous article, Independent Agent vs. Captive Agent, we address the issue that agents and their clients must and should maintain a good relationship.
It is important that you continue to have contact with your agent even if you've completed the life insurance purchase.
This way, you'll be able to review your policy and change it according to your current situation. That being said, here are five mistakes people tend to make with Term Life Insurance.
1. Waiting Too Long To Get Covered
Sometimes it's difficult to know when you should get life insurance. If you are planning to start a family in the near future, it would be a wise idea to start looking for good life insurance coverage as soon as you can.
The future is unpredictable, and this may sound a little pessimistic, but anything can happen to you.
MSN Money says, "Older is not wiser in the life insurance market. Life insurance rates are based partially on age. Let's face it: The older you are, the closer you are to death." The rate would be more affordable if you apply at a young age when you are healthy and have a high chance of not dying due to illness and other health related factors.
It's not wise to assume that your health will stay the same for the next ten or forty years. Health is unpredictable, especially in today's environment, where there are many factors that may influence your health.
So, before any of that occurs, it's best to get covered when you are young and healthy.
2. Buying Too Little
It's important that you purchase enough coverage. It's easy to make the mistake of purchasing too little because you want a smaller premium. However, what you should really be doing is thinking about the support your family will need if they rely solely on your income.
AIG Direct states, "There are plenty of variables to consider when shopping for term life insurance. Coverage amounts of $250,000 or $1 million can sound like fortunes, but some people discover too late that the amount of money they purchased doesn't cover everything they had intended. It's important to figure out your current expenses and do your best to accurately assess future costs."
One of our valued followers, insurance broker and financial advisor Trang Phan, tweeted us with a similar answer:
We can't stress it enough. It's crucial to get the right amount of coverage. Leaving your family with too little coverage can be devastating for them.
3. Not Reviewing Your Policy
It's important to review your policy on an ongoing basis. Some of people think it ends with you purchasing the coverage. In fact, it does not.
Legal Zoom states, "Evaluating life insurance needs is an activity that must be conducted on an ongoing basis. A life insurance needs analysis should be conducted at least every 2-to-3 years because circumstances change (marriage, divorce, or birth) and the amount of insurance may no longer be adequate."
Circumstances do change, and it's crucial that you review your policy with your agent or financial advisor. If your needs change, most likely your coverage will too.
It's not mandatory that you stay with your current company. You can most definitely go for another one. Remember it's best to shop around before settling for a coverage that best fits your current situation.
4. Not Buying A Lengthly Term
Here's another mistake. People tend to buy term insurance that might be too short sometimes. Review what you intend on doing in the future and whether or not you want to be covered for a specific period of time.
It's better to purchase a policy that you've done research on rather than just jumping in blindly with the wrong amount and length of coverage.
Tony Steuer from Twitter agrees one of the most common mistakes people do is not shopping around properly:
Legal Zoom says, "If the purpose for the insurance is to provide coverage for a specific period of time in your life, such as until the children finish college, and your youngest child is 5, then your policy should allow you to maintain the coverage at a guaranteed rate for 20 years."
Jonathan Jubida, insurance and investment advisor and again one of our good followers on Twitter, responded:
5. Relying On Your Employer Coverage
More than likely, the coverage that your employer is giving you isn't enough. Besides not giving you enough coverage, it doesn't also provide the security you need for the future. You usually do not have a say in the type of coverage the policy offers.
It's given to you via your employer and can be seen as a plus. But this plus isn't enough to give that financial security to you or your family.
Dave Ramsey states, "Always buy ten to twelve times your income in life insurance coverage. That small policy you're getting through work, which might be one year's worth of coverage, isn't near enough."
Therefore, it's best to have a personal insurance coverage for you just to be on the safe side. Again, it will give you a sense of security and will allow you to relax and not worry so much about whether or not you have enough coverage from your employer.
Remember: Do your research, shop around, make sure you have enough coverage money AND length-wise, and always keep up to date with your policy!
Here's what Chantal, president of LSM Insurance, had to say about these top mistakes people usually make:
Make sure you buy the right amount of coverage. Too many people just purchase a random amount of life insurance like $250,000 or $500,000 without fully analyzing how much life insurance they need.

To do this properly, you need to add up your currents debts and obligations your family would have to pay such as final expenses, a mortgage, or line of credit, and your continuing needs — i.e replacing a percentage of your income. Your existing assets, including current life insurance, can be subtracted from this number. The attached needs analysis calculator can help with these calculations."