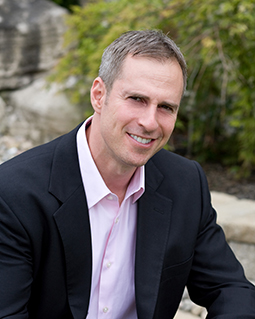 LSM Insurance Director of New Business Development, Lorne Marr was interviewed for the Health Matters section of Forum:the Magazine for Financial Advisors:
Fitness Forum Advisor
For many advisors, staying healthy and keeping fit is an important part of their daily routine. Lorne Marr, CFP, MBA, of LSM Insurance in Markham, Ontario, has spoken to many advisors over the years on how he maintains his passion for health and fitness, and quality family life, while growing his business. An advisor for over 11 years, Marr has been been a qualifying MDRT member every year since 1994 and in 2004, he qualified for MDRT Court of the Table. FORUM talked to the 36-year-old father of three about how he achieves a healthy balance in his hectic life.
FORUM: How important is achieving a work-life balance to you and how do you go about doing that?
Marr: Creating a balance in my business and personal life is crucial. Having a fulfilling home life definitely adds to my bottom line. I try to get my family very much involved in my business and personal goals. On the business side, I write out weekly, monthly and yearly goals, and attach a reward to each goal. For example, my wife and I will go out for a nice dinner or weekend away if I hit a certain production target. My children are also starting to get very involved in this process.
FORUM: We know that you're a "fitness buff." What fitness activities do you partake in and how many hours (or times a week) do you devote to keeping in shape?
Marr: My main forms of exercise are weightlifting and Tae Kwon Do. I competed as a bodybuilder at a local level in my 20s and have been weight training for 20 years. I started Tae Kwon Do about three years ago and I am currently going for my black stripe, competing in a couple of tournaments along the way. I generally train five days a week -three days of weights and two days of Tae Kwon Do. I also play a little baseball and ball hockey on the weekends.
FORUM: How do you find time to fit exercise into your busy schedule?
Marr: My workouts are treated as an appointment. They go right into my schedule and my business appointments are simply scheduled around these workouts.
FORUM: At the end of the day, what do you think you gain from being fit and healthy?
Marr: Living an active lifestyle actually creates time by giving you the energy and confidence to face life's challenges. The increased energy enhances the relationship I have with my family and my clients.
FORUM: What's your advice to advisors who want to get fit and stay healthy?
Marr: Set a goal, write down that goal and develop a plan of action. Each week or month, implement another component of that plan until it becomes part of who you are. Exercise and eating right is a habit no different than drinking or smoking. But it is a habit that creates value in your life and in the people you care about.
HEALTHY VIEWING
Eight Weeks to Optimum Health
In Eight Weeks to Optimum Health, Andrew Weil, M.D., a graduate of Harvard Medical School who has become a celebrity for advocating a a balanced lifestyle of body, mind and spirit, provides energetic lectures advocating an eight-week program that will lead the viewer to a healthier life. Standing before an attentive audience, Weil is an engaging lecturer, relying often on commonsense analogies while avoiding medical jargon. He presents his eight-week program very practically, beginning with tips on what to eat (and what to avoid), and proceeds to offer advice on exercise, how to handle stress and related topics.
Source: Amazon.com