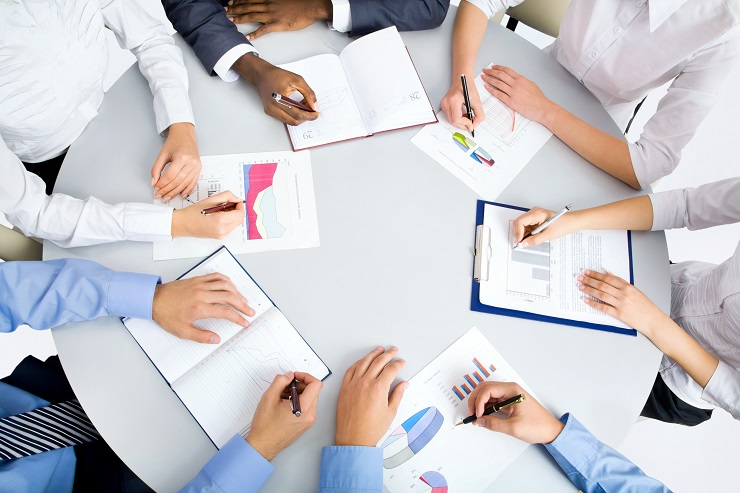 Need some advice on your personal finances? Twitter might be a great place to look, as members of the personal finance community are increasingly engaging on the social media platform through twitter chats.
What's that? Well, a twitter chat, also known as a tweet chat, is a real-time twitter event that focuses on a specific topic. Through the use of a hashtag, tweets are linked to create a conversation, creating a powerful medium for free advice.
This usually takes place at a specific time, so that a moderator or guest can lead the discussion. You can browse through the feed by simply searching the hashtag. To join in, all you need to do is tweet using the same hashtag.
Don't know where to start? Here is a list of 6 personal finance twitter chats you should follow:
1) #CdnMoney – Tuesdays at 7 pm EST
Top personal finance blogger, Hollie Pollard (@commoncentsmom), hosts a weekly twitter chat on the hashtag #CdnMoney featuring a wealth of saving and spending tips.
Hollie does a great job of keeping the audience engaged through simple, yet meaningful questions.
Find out more about everyday personal finance topics, through this interactive twitter chat.
Insurance carrier Manulife (@Manulife) occasionally holds a 'twitter party' on the hashtag #ManulifeReady, which offers a repository of useful advice to consumers.
Alongside creating a great place to chat about finances and opportunities, just by joining in and answering a few questions there are chances to win some awesome cash prizes.
With its well-organized chat, #ManulifeReady has a lot of great advice to offer.
@Manulife offers many great prizes to be won.
Keep an eye out for the next #ManulifeReady twitter chat for your chance to ask questions, gain insights and hopefully win a cash prize.
The Financial Consumer Agency of Canada (FCAC) dedicates the month of March as Fraud Prevention Month (#FPM2015). The @TorontoPolice @bankofcanada @FSCOTweets @InsuranceBureau & @CompBureau are a few of the organizations that have taken part and contributed some excellent tips and tricks on how to thwart fraud.
Simply follow the hashtag #FPM2015 to find lots of great fraud prevention tips.
How many times have we gotten a spam email, with a 'too good to be true' offer? Catch a scammer, before they get you. Protect yourself from fraud with advice posted in the chat, such as:
#FPM2015 offers expert key advice from the @InsuranceBureau:
#Fraudchat is a weekly Twitter chat held each Thursday at 1PM EST by @FSCOTweets, @ReganFCU @HegartyFCU & @FraudchatCanada to discuss financial crime topics. The chat aims to inform people on how to protect themselves from scams.
Topics covered include everything from Social Media to insurance frauds, and everything in between.
Be prepared by being informed though #fraudchat twitter chats.
The live coverage of the #RetireRich15, an event aimed to inform people on how to generate savings for retirement, is hosted by Canada's best-selling investment and lifestyle magazine, @MoneySenseMag.
Follow the hashtag to find insider tips on how to plan for a brighter (and richer) future. Take a look at some tweets from the last retire Rich event:
November isn't just a time to grow mustaches, it's also a good time to increase your knowledge of personal finance through being involved in Financial Literacy Month.
Scour through the hashtag #FLM2014 to get tips from countless organizations in both Canada and the US, seeking to assist with financial literacy. FLM is in March for Canadians, in the US they hold Financial Literacy Month in April.
Apart from a questionnaire to help you gauge how literate you are, #FLM2014 also featured fun contests like the My Financial Literacy Selfie contest- offering those with the best financial plans prizes.
Take a look at some of the top tweets on the #FLM2014 hashtag:
We hope you enjoyed this list of Twitter Chats and Hashtags to help you get up-to-date information on personal finances. We will keep updating the list to stay on top of new hashtags so if we missed any good ones, please comment in the section below or let us know on Twitter at @LSMInsurance!