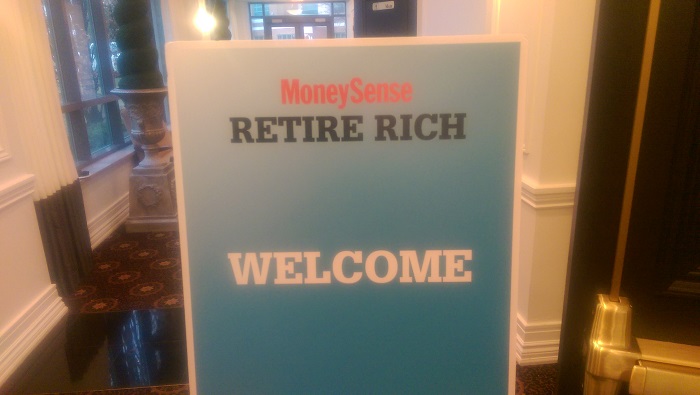 Last year, MoneySense hosted an event to inform people on how to generate savings for retirement. You can read the recap of Retire Rich 2014 with guest speakers Bruce Sellery, Duncan Hood, Malcolm Hamilton and Dan Bortolotti. This year, we were able to make it to Retire Rich 2015 in Oakville.
The returning guest speakers were Bruce Sellery, Duncan Hood, Dan Bortolotti and there was new appearance from Preet Banerjee. The event was informative and offered many key takeaways for retirement planning.
We joined in on live tweeting the event using #RetireRich15 sharing the knowledge we learned from Retire Rich. 
Bruce Sellery
Bruce opened the stage with a lively presentation about what it takes to keep your commitment towards retirement. 
One important note to take away is that retirement is not an activity it's a life stage. In his presentation, Bruce gave us four steps to reach that stage.
Duncan Hood
Editor-in-Chief of Money Sense, Duncan Hood, tells us how to make it to a million dollars for retirement. He gave us his four step guide to getting there. 
Preet Banerjee
Preet's talk was on the different ways financial advisors conduct their business. When looking to hire a financial planner, you should know the differences of commission-based, fee-based and fee-only planners.
Dan Bortolotti
Canadian Couch Potato, Dan Bortolotti, gives us his tips and advice when it comes to building your ETF portfolio. 
Ending off the event, Dan reminds us that if you are liking everything in your portfolio, that means there is something wrong: