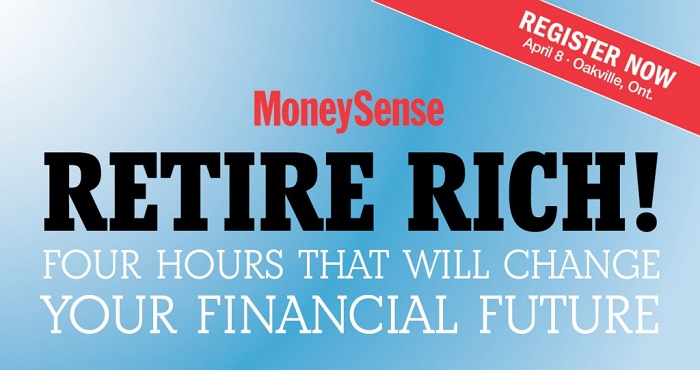 MoneySense is returning it's Retire Rich Event this year on Wednesday, April 8th, 2015. The event will be held in Oakville at the Oakville Conference Centre on 2515 Wyecroft Rd. The event will take place between 5:30 p.m. – 9:30 p.m.
Retire Rich is an event hosted by MoneySense to help you live a rewarding life in retirement. Personal finance experts come together to bring one night of practical advice and insights. At Retire Rich, you will learn financial tactics money plans that can help you establish a retirement plan. If you have questions, the experts are there to answer them. Last year, we recapped MoneySense's Retire Rich 2014 event.
Below is the list of featured speakers for MoneySense 2015.
Bruce Sellery the author of the Moolala and contributing editor of MoneySense.
Duncan Hood, editor-in-chief of MoneySense.
Author of Stop Over-Thinking Your Money, Preet Banerjee. Preet has also been seen on CBC's The National Bottom Line panel. 
Lastly, Dan Bortolotti, the founder of Canadian Couch Potato Blog, MoneySense index investing columnist, and financial planner.
Cost of general admission is $49.95 plus HST.  Luckily, we have one ticket that we are giving away. All you have to do is enter in the contest below. End date of the contest is Friday, March 27th, 2015 at 12:00 a.m.