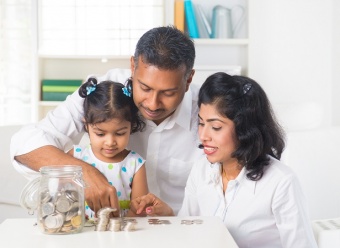 Here Is Some Advice From The Experts:
Robin Taub, chartered accountant and author of A Parent's Guide to Raising Money-Smart Kids, says it's important to teach kids about money because "having good financial management is an important life skill." Not only that, but all parents want to raise fiscally-responsible and financially independent children.
With that in mind, we asked some of Canada's leading financial personalities the best way to teach kids about money and here's what they contributed:
Gail Vaz-Oxlade
In her column printed in the Toronto Sun, author and TV personality Gail Vaz-Oxlade explains why she is an advocate of an allowance over just doling out money whenever your kids need it.
"I define an allowance as the money you normally spend on your kid put in your child's hands so he or she can learn to manage it," she writes.
"Given regularly, an allowance not only provides kids with the bucks they need to experiment with saving and spending, it also gives them the responsibility for keeping their money safe and using it wisely. Over time, even a modest allowance will get kids thinking about the value of money and how to make their dollars go further."
The Money Smart Kids author makes the point that a child will never learn about money unless you give them some, but she cautions against a mistake many parents make.
"The alternative to an allowance, and a trap for most parents, is the dole system. That's when your kid asks for some cash and you dole it out. Since the dole system has no limit, there is no reason for a child to set priorities or make a decision on relative value," she warns.
If your kids are currently on the dole system, Gail challenges you to keep track of the money you're giving them every month and assures you'll be surprised by just how big their allowance is in that case.
Ellen Roseman
The Toronto Star's personal finance columnist Ellen Roseman says you can introduce your kids to investing by buying them stock shares as gifts. She recommends picking companies they know and like, such as Disney, Tim Hortons, Dollarama and Canadian Tire.
After that, she suggests finding an online broker that doesn't charge fees for inactivity on small accounts. Alternatively, if you don't want them to learn on real stocks, she recommends playing the stock market using a fantasy account. Roseman points to the stock simulator at Investopedia as a good starting point. There, your kids can practice trading with $100,000 in fantasy cash.
Big Cajun Man
Personal finance blogger Big Cajun Man actually tried to set up his kids with an allowance, but he hit an unexpected snag.
"Inevitably, we'd forget for a couple of weeks, try to catch up and eventually just gave up (much to the kids chagrin)," he writes on Wallnut.com.
For a while the allowance plan lay dormant, but then he went to his bank and asked about bank accounts for kids.
"The poor woman whose life I was ruining for the day, said the accounts could be opened then (since the kids had SIN numbers), and the accounts would show up 'under' my account on my online banking."
The best thing about this was that transfers were free from Cajun Man's account to his kids' account so he could make as many as he wanted automatically.
"I asked her to set up weekly transfers from my account to my kids accounts, thus assuring that the money was paid every week (whether I remembered or not)," he writes.
The automatic transfers actually worked. The kids bought things that they needed, such as clothes they wanted and gifts for their friends' birthdays. Plus, it increased their understanding of money quite a lot.