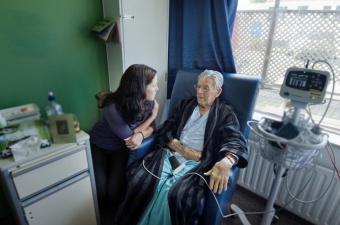 It's not hard to guess that cancer is the leading cause of death in Canada, accounting for 30% of all deaths.
It's probably no surprise to any of us that 191,300 new cases of cancer and 76,600 deaths from cancer will occur in Canada in 2014. This includes 40,000 Canadian men and 36,600 women. If you break it down 524 Canadians will be diagnosed with cancer everyday and 210 die from it.
It's an incredibly high cost on society — losing good people — and that's not counting the emotional cost that impacts the person fighting the battle and their loved ones who go through it with them and are left behind when they die. But we know the health costs, the emotional costs and the huge loss to society at large.
What doesn't get talked about as much is the financial cost of a cancer diagnosis. Rob Carrick, personal finance columnist for The Globe and Mail, tackled this issue at the end of October 2014 in a video interview with Pamela Bowes, manager of program development at WellSpring Cancer Support Network, who pointed out that research shows 90% of people living with cancer have faced a financial impact due to their diagnosis.
She's right, the Canadian Cancer Action Network and the Manitoba Division of the Canadian Cancer Society joined forces in 2011 and found that because people are surviving much longer after an initial cancer diagnosis (62% of those diagnosed are expected to survive five years or more) and because the newest innovations in cancer treatment keeping them alive are getting increasingly more expensive, many more people are facing increasing financial hardship while fighting cancer. Let's not forget that those who beat cancer once may face a recurrence of the disease, which will further interrupt their earning power.
The main problem is lost income for both the patient and caregiver. If you need proof, the same study reports that in 2009, new cancer cases resulted in $3.18 billion in lost wages. Other costs, as stated by Pamela Bowes in that Globe and Mail interview, include medications that aren't covered, childcare, physiotherapy, hospital parking, medical supplies and even long distance calls to family.
"The biggest myth about cancer is that people think if I'm diagnosed with cancer, everything just falls into place. The money is there, the services are there and the costs are not going to be felt by me, but that is not true," says Bowes.
So why is this? The Canadian Cancer Action Network and the Manitoba Division of the Canadian Cancer Society acknowledged in their research that government income stabilization programs "are badly out of step with the needs of Canadians affected by cancer, the realities of today's cancer journey and the changed cancer care delivery system." They admit that, "Until governments make major policy changes to address these issues, the financial hardship of cancer will not be fully resolved."
So when you can't rely on the government, who can you rely on to lessen the impact of the financial burden? Though critical illness insurance is a more expensive insurance option, the expense is absolutely worth it. Cancer is always a covered illness on most critical illness policies and there are even some critical illness policies that are cancer exclusive.
For those in need of review, critical illness provides a lump sum of the policy amount upon diagnosis of any critical illness listed on the policy, including heart attack, stroke and multiple sclerosis in addition to cancer. The lump sum can be used for any expense at the discretion of the patient including all of those talked about by Pamela Bowes in her interview.
However, critical illness can be just as prohibitively expensive as the medications, treatments and other expenses that are part of the financial burden cancer creates and LSM Insurance knows this, which is why our president, Chantal Marr, recently wrote an article outlining several ways you can save money on critical illness insurance. These include getting a life insurance and critical illness combination policy, keeping yourself in good health and not smoking, getting a policy early while you're young, working with an independent broker who can shop around, cutting out the benefits you don't need and more. There are over 40 tips in the article, so you are bound to find at least one strategy that may work for you. 
If you are still struggling with finding an affordable critical illness plan, try partnering with an independent broker who has the ability to shop the market and compare prices and features on your behalf. One of LSM's top brokers, Andrew Burdi, recently wrote about the best critical illness providers in Canada and the unique features they offer with every plan.
For example, Manulife offers a 10% advance on their critical illness payout ahead of the typical 30-day waiting period that comes with most critical illness plans. In addition, Burdi pointed out that Manulife offers a 25% payout for less severe Critical Illnesses that are more easily treatable, such as early stage prostate cancer, breast cancer and angioplasty. Many other companies offer this feature, but Manulife beats them with a higher percentage of the benefit payout. Other companies profiled as far as their critical illness offering goes are Empire Life, Canada Life and RBC Insurance.
So, the financial burden of cancer can be lessened and critical illness policies can be made to at least be more economical if not completely affordable, thanks to the features available in some of the best plans. Plus, given that more than half of Canadians will be diagnosed with some form of cancer in their lifetime, you may half to weigh the expense of the insurance against the larger expense and financial burden of having cancer or any other critical illness for that matter.
Besides, we're well aware that critical illness insurance is only one comprehensive way to deal with the financial burden of cancer. Of course, there are community supports and private foundations as well that you can draw support from, but critical illness insurance will give you the most autonomy and independence regarding where the money goes.