Chantal Marr Quoted in the Investment Executive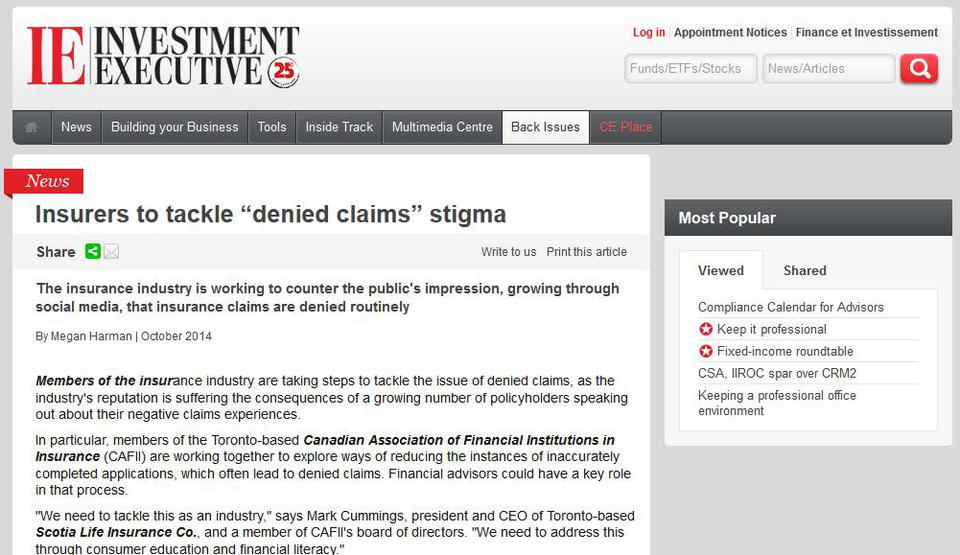 Chantal Marr, president of LSM Insurance, was quoted in the Investment Executive on October 2014. The newspaper quotes her in an article called Insurers to tackle "denied claims" stigma, written by Megan Harman. The article covers the issue of negative effect generated by denial of the insurance claims.
Marr spoke about the impact of dissatisfied customers who were denied claims and are expressing their anger on social media. She also comments on the fact that many of the denials are caused by misinterpretation of the application for insurance and that these applications are often written in a very ambiguous ways.
Read the full article here:
Members of the insurance industry are taking steps to tackle the issue of denied claims, as the industry's reputation is suffering the consequences of a growing number of policyholders speaking out about their negative claims experiences.
In particular, members of the Toronto-based Canadian Association of Financial Institutions in Insurance (CAFII) are working together to explore ways of reducing the instances of inaccurately completed applications, which often lead to denied claims. Financial advisors could have a key role in that process.
"We need to tackle this as an industry," says Mark Cummings, president and CEO of Toronto-based Scotia Life Insurance Co., and a member of CAFII's board of directors. "We need to address this through consumer education and financial literacy."
Even though only a small proportion of life and health insurance claims are denied, those cases tend to attract a disproportionate amount of publicity, particularly as some consumers who encounter these situations have begun venting their frustration on social media platforms such as Facebook and Twitter.
"[Denied claims] are in the forefront more," says Cummings, "because of the different avenues that consumers have today to express their concerns. Whereas, 10 years ago, those avenues didn't exist."
This negative publicity presents a considerable threat to the reputation of the insurance industry, says Chantal Marr, president of LSM Insurance Services Ltd. in Markham, Ont. She suspects that individuals who are considering the purchase of insurance could be dissuaded by stories of other policyholders' claims being denied.
Big impact
"I think this has, and will continue to have, a big impact. It gives people without a lot of financial clout a medium to express their displeasure," Marr says. "I think forward-thinking insurance companies will realize that these dissatisfied consumers can now have a very tangible impact on future sales and their bottom line."
The industry is seeking both to quash the perception that it denies claims regularly and to help clients understand the reasons that claims are declined.
"I think it's an opportunity," Cummings says, "for us as an industry to really clarify this."
One of the most common reasons why life and health insurance claims are denied is inaccurate information on the application – particularly on policies that are underwritten on the basis of a series of medical questions rather than a physical examination. When a claim is made on that type of policy, the insurer conducts a claims adjudication process in which it verifies the accuracy of the information provided initially by the insured.
"As part of the claims process, we do due diligence," Cummings says. "If we find that the policyholder has not been truthful or they've misrepresented their health on the application within a contestability period, then the claim can be denied."
That due diligence is an important way for insurers to combat fraud and to ensure that policyholders didn't conceal any pre-existing health problems during the application process. Although clients might assume that conveying a rosier image of their health will help them secure coverage, they probably don't understand the repercussions, says Promod Sharma, actuary with Taxevity Insurance Advisory in Toronto.
Misconception
"You have some consumers who are knowingly making misleading statements or leaving things out [on their applications]," Sharma says. "The result is that people think they have insurance, and they don't."
That's a misconception that the industry needs to clear up, says Cummings: "The message we need to convey is that when you're completing an application for insurance and, in particular, the underwriting questionnaire, it's better if you disclose everything. It's better for you in the long run."
Misrepresentations can occur for other reasons. In many cases, clients misunderstand the questions or omit information they either have forgotten or don't realize might be relevant, says Kevin Gourlay, a lawyer with Murphy Battista LLP in Vancouver.
"Problems most commonly arise," Gourlay says, "when people don't understand what ought to or needs to be disclosed."
Contributing to the confusion may be the application itself, which can be lengthy and convoluted – a document that industry players admit has room for improvement. Says Marr: "What sounds clear to a lawyer is not necessarily clear to the average consumer. Making application questions and provisions less ambiguous [would be] a big step in the right direction."
A more interactive sales process also could help to reduce errors on applications. It's helpful for clients to have an advisor guide them through the application.
"If [clients] are just filling something out online," says Sharma, "there's no one there who can explain things in a way that they could understand. People need to talk to someone when they're filling out an application. Maybe advisors are part of that solution."
Advisors should be as thorough as possible when going through an application with clients, Gourlay says: "The broker does have an active role to ensure that the insured's needs are being met, that they're getting the coverage that they expect and that they understand the application."