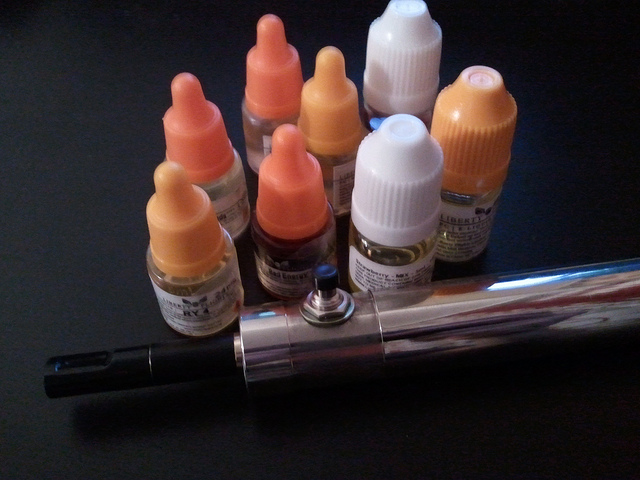 Thinking about curbing your smoking habit? Or even just finding a healthy replacement for smoking? Well, guess what. You're not alone. There are more smokers in North America than you probably realize, and of course, most if not all would like to quit but find it relatively hard to do so.
E-cigarettes are becoming popular among smokers and are used to help curb smoking habits. E-cigarettes are meant to be harmless and a better alternative to traditional smoking — or that's what we know for now. 
Basic research has shown that this is not the case and that e-cigarettes can damage users' health. However, research towards e-cigarettes has only started and there are no exact proofs to lay out about these claims.
According to Smoke Free Ottawa, the use of e-cigarettes has been spreading widely across the nation and it is becoming a concern.
They are also concerned with the fact that e-cigarettes are being openly displayed in local stores, which was the same case for tobacco before the enactment of the Smoke Free Ontario Act 2006 Legislation. This can lead to a potential group of "vapers" — a new kind of smokers.
Are E-cigarettes A Healthy Alternative?
You may be wondering if e-cigarettes are a healthier alternative to smoking. Sorry to disappoint, but e-cigarettes fall under a grey category and there are no concrete data suggesting that "vaping" is completely dangerous.
Dr. Joseph Mercola, a prominent physician specializing in the natural well being of his viewers and patients, tells readers that "to date, the U.S. Food And Drug Administration (FDA) has detected a potentially deadly antifreeze chemical called Diethylene Glycol in an electronic cigarette cartridge, along with tobacco specific Nitrosamines, which are linked to cancer."
The United States government has not made any claims or taken a side. But there have been indications that there will be regulations sometime in the near future towards the use of E-cigarettes.
As Dr. Mercola puts it, there is absolutely nothing natural about e-cigarettes and it is 100% created in the lab, where they use loads of chemicals to create it, which can be detrimental to users' health and their longevity.
Do E-cigarettes Prevent Addiction To Nicotine?
Now that we know that E-cigarettes may not be all that great as the hype has made them out to be, let's see if they help curb the addiction that most Canadian smokers wish to eliminate.
According to Dr. Oz, a well known television-personality and physician specializing in cardiothoracic surgery, E-cigarettes don't deliver 100% results, as most users would like them to. Since there is still some nicotine contained in E-cigarettes, the addiction may still remain.
Dr. Oz expresses his concerns with the rising number of E-cigarette users among teenagers. Appealing to their tastes with the variety of flavours they come in does not help the fact that young children are using carcinogenic products that have yet to be proven to be efficient.
Quit Smoking By Other Means?
Dr. Oz also advises adults who are thinking about using E-cigarettes to quit smoking to find an alternative method to do so because there are millions of smokers who have quit using different methods combined with perseverance and determination. So this can be done without the aid of E-cigarettes.
So, what happened to the idea of quitting? Well, Andre Picard from The Globe and Mail says that many anti-smoking activists see E-cigarettes as a gateway to a new method of smoking that has the potential to discourage old smokers from quitting because they can use E-cigarettes to smoke.
This defeats the goals of restricting smoking that have been ongoing for decades.
Not Enough Data Collected For E-Cigarettes Just Yet!
Some health-conscious people may ask whether e-cigarettes are actually what retailers sell them to be — a safer alternative to smoking tobacco.
The Canadian Cancer Society has done some research into this. They conducted a public commissioned test in which they tested 13 products, and the results yielded some unfortunate information. Nine of the products showed distortions and four had not conformed to the labels listed on the products.
The CCS expresses their worry, as most of the products labelled as "nicotine-free" in fact did contain nicotine.
This is incredibly disheartening for those who wish to control smoking, as nicotine is the drug in cigarettes that causes the addiction. Again, E-cigarettes are becoming very popular among the youth and this might be an issue that the Canadian government may have to address in the future.
The CCS wants the Canadian government to issue regulations that will set rules as to who and where someone can smoke E-cigarettes. Some of these regulations, as listed by CCS, include:
Banning sales to minors
Controlling their advertisements/promotions
Regulating product ingredients and emissions
Banning from smoking in public areas where tobacco is not allowed
E-Cigarettes Have Less Health Damaging Effects On Smokers
So, now that we have some information from different sources the question still lingers as to whether e-cigarettes are a healthier alternative to traditional smoking? The answer is not very clear, and research is still at its early stage.
According to Men's Health magazine research has shown that there is no direct link between e-cigarettes and quitting smoking. In fact, e-cigarettes are just an alternative method of smoking.
It may be possible that e-cigarettes have less health damaging factors compared to traditional cigarettes. E-cigarettes are still up to debate, and since they are relatively new, there is not enough research and data that have been collected in order to state for certain that they are either detrimental or beneficial to the user's health.
When it comes to life insurance, it's false to assume that e-cigarette smokers will not be viewed as smokers. In fact, it does not matter. In Canada, if you are an e-cigarette smoker, you will still be classified as a smoker and will have to pay a higher premium than those who do not smoke.
However, Chantal Marr, the president of LSM Insurance, spoke on the issue in the National Post, stating her disagreement with this insurance classification: 
"I don't think it's fair," said Chantal Marr, whose clients include many e-cigarette users. "It does not make sense to price a non-smoker as a smoker."
LSM Insurance broker William Shung also chimed in on the issue e-cigarette users face, as he shared Chantal's view:
This is not fair to the consumer. The fact that insurers do not have enough data is not a valid reason to price someone as a smoker when they don't actually smoke cigarettes.
The controversy revolving around e-cigarettes will remain for a very long time. And as new research and data emerge, consumers will begin to understand the health benefits or defects of this product. In the meantime, here are what some users in the Twitter sphere had to say about e-cigarettes: 
LM00LM