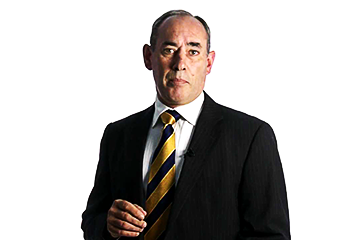 Tony Vidler
Adviser to the Advice Industry, Strictly Business Ltd.
 
1. What type of life insurance do you own?
$410,000 in life insurance coverage with the majority at a level premium, $450,000 in trauma insurance with the majority also at a level premium, $450,000 in accelerated total and permanent disability coverage and $11,000 a month in income protection, and disability income coverage at a level premium. This last one is a blended contract where the first six months of claim are "agreed value" and any ongoing claim reverts to a loss of earnings formula. My medical insurance is full surgical and specialist coverage only at a total cost of $800 per month.
There is one very significant thing I must add about my own coverage. I have an adviser.
Regardless of my own qualifications and experience, I believe that it is virtually impossible to bring complete objectivity and a focus on the wider "family" dynamics when one tries to advise oneself. So, a number of years ago, I appointed an adviser to handle my things and to actually give me advice. We go through the full process and review everything. (I am just probably just a tougher client than usual to deal with.) But from my perspective, having that objectivity and rigour applied to my own planning has been superb. I believe that every financial adviser should have a financial adviser who is not themselves.
2. What factors did you consider when determining the coverage amount?
I am a firm believer in life insurance coverage being a capitalized amount of lost income through to retirement, after taking into account any other income/investment earnings that will continue after death. At this point in my life, the amount of coverage I have is adequate to do that.
For total and partial disability and trauma, I am mindful of the probable high medical and treatment costs, so I have made some assumptions regarding likely costs (maximum about $100,000, given our "free" health system together with my full medical insurance coverage). Thereafter, the balance of coverage is calculated to buy me "time," or about three years of zero earnings, bearing in mind I have full income replacement coverage as well, which will cover generally about 75% of lost income. The trauma and total or partial disability coverage is, therefore, a component that buys time and fills in an immediate loss of income, together with meeting possible extraordinary medical expenditure.
3. Do you believe in life insurance for children?
Life insurance for children aged 10 or less is against the law — here in New Zealand, anyway. However, I do not tend to see the merit in it myself. I do see the merit in having some trauma coverage for children. Coverage of $50,000 to $100,000 does not seem unreasonable, given the possible cost of medical treatment and the loss of the parents' income during that treatment.
With regard to life insurance coverage for children, it is certainly not a nice thought. However, the financial impact (only) of the loss of a child is relatively minor in the short term and a brutally detached, logical assessment would conclude that financially, the parents are in an improved position thereafter. Having said that, the real point, in my view, is that the short-term financial impact is relatively minor and the reality is, there is not a significant long-term financial loss, which undermines the argument for life insurance for minors and dependents.
4. What is the biggest life insurance mistake people make?
Assuming that the need is triggered by, and should equate to, a debt obligation only. Typically, in this part of the world, we see consumers buying life insurance to satisfy their mortgage lender only and at an amount that satisfies that debt obligation. For most families, being left without a breadwinner and sitting in a freehold home is not sufficient coverage.
5. Outside of life insurance, what other types of individual insurance are often overlooked?
Income protection, disability income or replacement income coverage (called different things in different places). But it is, in my view, the single most important risk management tool in personal planning. Ongoing income underpins all financial plans, goals, and life aspirations for families, and loss of the income is deadly. It is technically the most challenging area for practitioners and consumers alike and is generally poorly understood and poorly utilized as a result. It leaves a gaping hole in many risk management plans.
Tony Vidler helps advisers create the branding and positioning they want, and then helps them get more business. Working in the New Zealand financial services industry in advisory and management capacities since June 1990, during his career, Tony has been involved in agency management roles; started, grown and sold a sizeable investment and insurance brokerage business of his own; been personally involved in business development with hundreds of advisers; heavily involved in professional development and the evolution of regulation in the New Zealand industry; executive sales and marketing management with a major institution; and been a leading figure in the New Zealand financial services industry for many years. In addition to running his own "one-man band" as a coach and consultant to financial advisers in New Zealand, Tony is the immediate past Chairman of the Board for the Institute of Financial Advisers, having retired after eight years on the board.