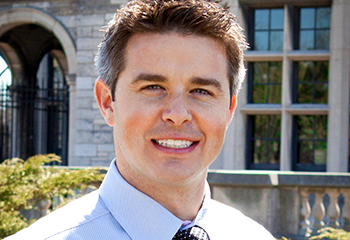 Jack W. Larmond
Consultant, The Benefits Company
1. What type of life insurance do you own?
I own the following life insurance and living benefit insurance policies: Term 10 Life Insurance policy, Universal Life, Disability Insurance, Critical Illness Insurance, and Long Term Care Insurance.
2. What factors did you consider when determining the coverage amount?
I purchased a term life insurance policy because I have some debt obligations, and I understand the need to protect my future insurability in the event of having a change in health. I am definitely over-insured for the next few years, although for the small premium based on my age, it made sense for me. I do not want to be left in a position where I can't get insurance when I have kids in a few years and have a larger mortgage obligation if I have a change in health between now and then, so over-insuring myself for the time being makes sense to me. I know I will need that amount of coverage to cover debt obligations and to replace income, so buying it now while I am young and healthy makes sense to me.
I own a critical illness policy, as I know firsthand the impact. I have lost an aunt, and recently an uncle, to cancer. My grandmother was also diagnosed with cancer in the last couple of years and, thankfully, she is doing better. My fiancée also owns a critical illness policy, and here are a few reasons why we purchased this coverage:
If one of us is diagnosed with cancer or another major illness, to have access to a world's best second opinion through the Best Doctors (www.bestdoctors.com), which is automatically built into the policy, is invaluable.
With the Canadian healthcare system being affected more and more with the aging demographics, and with the major wave of Baby Boomers reaching the age of 65, access to care and wait times, in my view, will only worsen before getting better. If I have the option of getting cancer treatment or testing done next day in the U.S at the Mayo Clinic, for example, I will not be electing to wait for care in the Canadian system.
Once we have children, if one of us is diagnosed with cancer, for example, we will want the other spouse to have the option and ability to take time off of work to help be there to support the family and spouse who is suffering from the illness. To afford that opportunity, there would be a loss in income that one of us would forfeit if we took time off work to help care for the other spouse. To be able to replace that lost income and not have to worry about drawing money from RRSPs makes sense to us.
The fact that we both get all our premiums back if we never claim or if we die prematurely is just a bonus
By simply looking at statistics, and looking at those around us, it made sense to cover off this risk, especially to be able to focus on recovery rather than having to worry about anything else during that time (like finances).
I specialized in Long Term Care Insurance during the first year in my career and truly understand the need for it. I know how costly care in the future will be, especially with the onset of Baby Boomers and the shrinking tax-base, so I am not relying on the government to be there for me if I make it into my 70s, 80s, or 90s.
When I first got into the business at the age of 23 years old, my brother convinced me to buy disability insurance. I looked at the cost of $100 per month at the time and I thought that was a lot. Being young and with my low-risk occupation, I also thought the likelihood was low. My older brother, Chad, who is also in the business, used an analogy that has stuck with me ever since — "If you had a money machine in your basement that printed $50K or $100K every year, would you pay for insurance that cost you $100 per month to $200 per month to insure that money machine in case it broke?" I have owned disability insurance ever since.
I own some permanent life insurance, and I will eventually convert some of my term insurance to purchase some more permanent insurance in the future (especially if I have a change in health). I use my Universal Life policy also for investment purposes, as I keep an emergency fund in the tax-sheltered part of the policy.
3. Do you believe in life insurance for children?
I believe in first protecting the breadwinners (the parents) of the family and ensuring that all of their insurance needs are addressed. If cash flow permits to cover the children, then I certainly recommend covering the children (in most cases). I am currently dealing with a couple right now who purchased a child term rider on their life insurance, and now that the child is 25 years of age, he is no longer able to be covered on their policy for the $50 per year premium. The child has cerebral palsy and is not able to buy coverage medically in the marketplace at a reasonable premium. The coverage the parents put on him is now affording him the ability to get ten times the benefit offered through the conversion feature built into the child term rider they put on the policy.
For those who have employee benefits through work, most benefits plans offer some dependent life insurance, which can help cover the cost of burial in the event of losing a child. People do not like to think of this, but unfortunately, it is a reality that can sometimes happen. For $3 to $5 a month, parents can add a Child Term Rider onto their life insurance policy to cover their children (this one price covers all kids) for approximately $10K of coverage. For those who do not have a benefits plan, which offers dependent life insurance, I always recommend the Child Term Rider on their policies.
For those whose cash flow and incomes allow, I do recommend Child Critical Illness Policies and paid up life insurance policies because the premiums are so inexpensive and this coverage protects the children's future insurability. What many people fail to realize is that if a parent, or both parents, of the child have a change in health, this could affect the child's future insurability or the option to buy coverage at a standard rate in the future. If the child contracts a major critical illness, to have the ability to go to the states for treatment next day, or afford the parent (or parents) the money to take more time off work to help be there for their child is invaluable (at least to me). It is also likely that they may want the flexibility to take some time away from work to just be with the family.
4. What is the biggest life insurance mistake people make?
There are a few that I see commonly, and here they are in order.
Some people are convinced that the bank has taken care of them so well over the years and they do not take the time to learn about their mortgage insurance that they have purchased from the bank. Some people do not understand how mortgage insurance works or how uncompetitive the prices are compared to a life insurance policy, and do not understand that much of the underwriting is done at the time of claim.
People do not insure themselves for the proper amounts with life insurance. I am a huge believer in having the right amount of insurance, rather than having the right type of insurance. I would rather see someone with a Term-10 $1,000,000 policy than a Term-20 policy for $500,000, if their need for insurance is $1M.
Professionals have access to many insurance association plans (CDSPI, OMA, et cetera), and many do not take the time to compare an individually owned policy to their respective association plans. Associations do not guarantee rates, they do not guarantee coverage, and the rates are typically age-banded and increase every four to five years.
5. Outside of life insurance, what other types of individual insurance are often overlooked?
Disability Insurance, Critical Illness, Long Term Care Insurance, drug coverage, and for those who travel, having adequate emergency out-of-country coverage.
Jack W. Larmond, B. Comm. (Honours B.A.), GBA, is a consultant at The Benefits Company, which specializes in Employee Benefits and Pension Plans (www.thebenefitscompany.ca). Jack is also the principal and owner of J.W. Larmond Life Insurance & Benefits, where he is able to assist clients with Life Insurance, Disability Insurance, and Critical Illness planning (lifeinsuranceadviser.com). Jack is committed to being a specialist and expert in the areas of employee benefits and assisting business owners, professionals, and families with their life insurance and living benefits needs. As a broker, Jack is able to help clients plan by having access to all options in the marketplace.

Jack is very close to his family and friends. He is a true believer in working hard but having a solid work-life balance. Jack is an avid skier, hockey player, and golfer. He has a very positive outlook on life: "What you believe, you will become."