Now and then, everyone enjoys indulging in a restaurant meal, but sometimes the foods you eat at restaurants can leave you feeling a little less than healthy. Here's a list of the five best places in Toronto where you can eat delicious foods and feel satisfied without compromising your healthy lifestyle.
1. Belmonte Raw
Located at 1022 Queen Street East, Belmonte Raw ranks number one on the list for healthy eats in Toronto. Owner and chef Carol Belmonte adopted a raw lifestyle after studying yoga in India — and we can be glad she did, as she manages to create some of the best dishes in the city.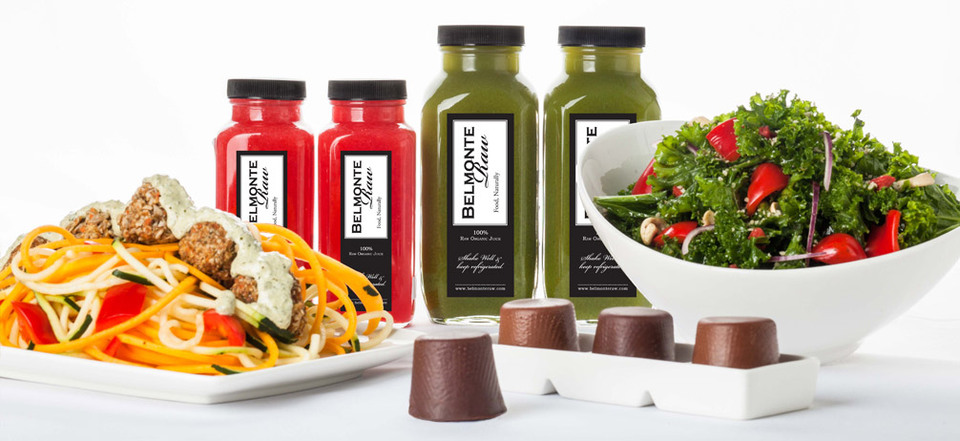 The chalkboard menu changes every week, guaranteeing the freshest ingredients. "We have taken a lot of time to create recipes that not only taste great but that will positively change the way the city sees and feels about healthy food options ," says Belmonte. On top of a deliciously fresh menu upon any visit, Belmonte Raw has cleanse programs that will leave you feeling detoxed and filled with energy. Plus, the programs are easy to follow, as the juices and meals are delivered to your house when you purchase your cleanse!
As if this weren't enough, Belmonte Raw also offers classes where students learn about the value of raw food, as well as how to prepare raw meals, how to improve knife skills, and how to understand which ingredients work best for you. The small restaurant hosts a happy and relaxed atmosphere, and this is presumably the case of the other two locations in Toronto (located on Yonge Street and King Street West).
2. Fresh
Considered a staple within the city, Fresh has been around since 1999, and you'll be hard-pressed to find someone who doesn't like at least one thing on the menu. There are four locations across the city: Fresh on Bloor, Fresh on Crawford, Fresh on Spadina, and Fresh on Eglinton. Although there are options that can be a little less than healthy (with quinoa onions rings or fries), Fresh primarily caters "to more modern, trendy and healthy items like the kale salad (Ace of Kales [$13]), the Macro Greens [$10–$16] and the All Star [$13]," as executive chef and partner Jennifer Houston explains.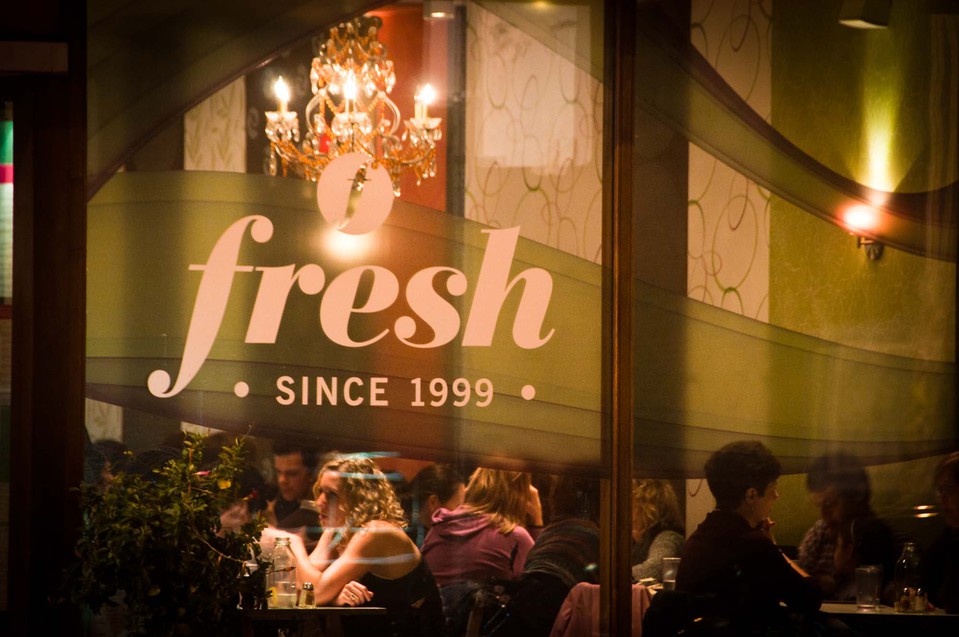 No matter the location, Fresh is always busy, with many servers bustling around cramped little tables. The items on the menu are all vegan with the option to add dairy products like cheese, for example, so it makes for an easy place to eat for vegan and cheese-eating friends alike. What makes Fresh even more special is its homemade sauces and dips — like the vegan avocado chipotle dip, the miso gravy, or the 3-6-9 dressing.
3. Live Organic Food Bar
Opened in 2002 at 264 Dupont Street, Live Organic Food Bar has been serving up organic and local food for years in this city. And it was definitely one of the first restaurants to do so! Although not vegetarian or completely raw, owner Jennifer Italiano explains that she and her brother, Chris Italiano (co-owner), were just "very into health." Live Organic Food Bar is as organic as possible, uses local produce as often as it can, and tends to offer a half-raw and half-cooked menu.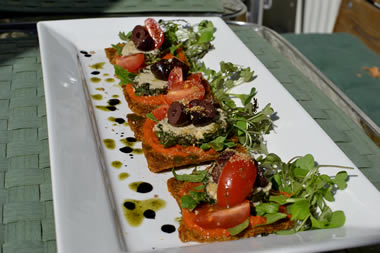 Live's raw items are interesting, and some of them are foods you wouldn't normally associate with a raw lifestyle, like the raw manicotti ($16), which is made with zucchini noodles and cashew spinach ricotta, or the raw tostadas ($16), made with walnut taco meat. If you're looking for something a little warmer, Live also serves hot bowls ($15) and cooked burritos ($14), among a few other cooked dishes.
"We've been around for so long, we've had a chance to make mistakes and learn from them," Jennifer Italiano laughs when asked about their success. She also adds that "when you eat well, you feel good." And that's exactly what drives this restaurant and its special cleanses that can also be picked up or delivered to you if you're feeling a little sluggish.
4. The Beet
It's no wonder The Beet has an extremely healthy menu with owners like Michelle Vella, a certified nutritionist, and Heather Osler, a homeopathic doctor. Opened in 2008 at 2945 Dundas Street West, Vella explains that the duo was already naturally educating people on how to eat well when the idea for The Beet came to fruition.
Vella says there was a disconnect between teaching people and their continuing on a healthy path, and that disconnect lied in cooking and understanding the value of organic and local products. "I still don't know of any place that is as organic as The Beet," says Vella of their success.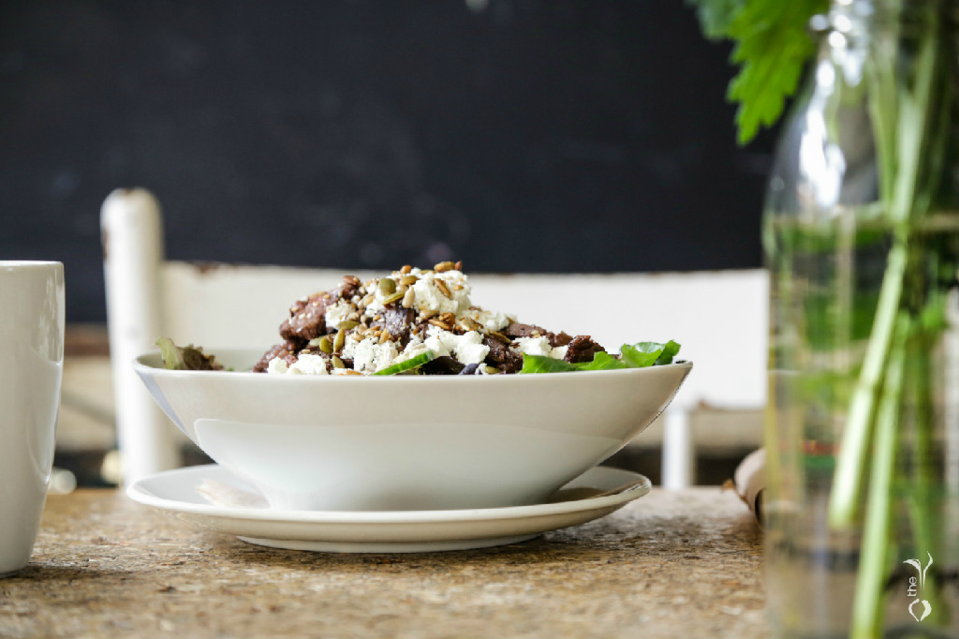 We've all been to restaurants where either the meat eaters or the vegetarians feel like they have little choice on the menu. The Beet seeks to avoid exactly that. Vella explains, "You can still have a burger and a beer, but it's ethically sourced." The menu ranges from the customer favourite Buenos Dias Wrap ($13) to a lamb or bison burger ($16) on a kamut bun or gluten free bread.
What is especially cool about The Beet is how sustainable it strives to be — from the 100 per cent biodegradable packaging to the interior that boasts sunflower seed tables as well as palm tree flooring!
5. Rawlicious
Even pizza can be healthy at Rawlicious! Rawlicious has different locations across the GTA and beyond, but in Toronto, you can find them on Bloor West or in the heart of Yorkville at 20 Cumberland Street. This location isn't a fancy place considering it's located in Yorkville, but the dishes are delicious and elegant in their own way.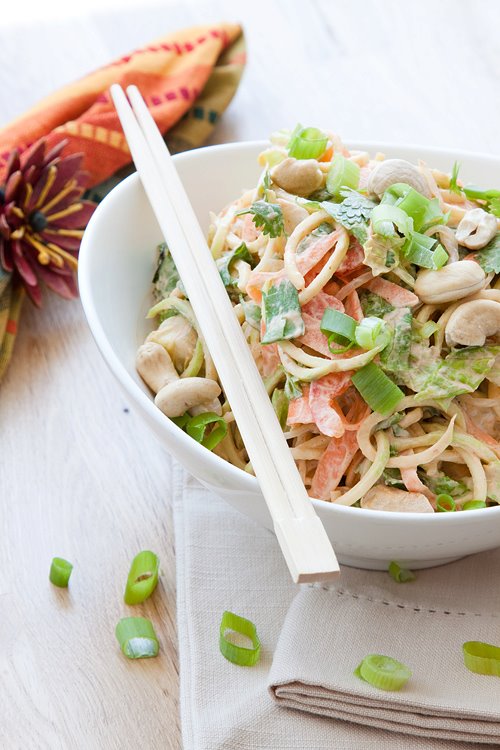 The pizza ($11) on the menu is served on a sprouted buckwheat and flax seed crust with cashew nut cheese and tomato marinara sauce. It's one of the healthy comfort foods you can find at Rawlicious. The food is made in an open kitchen and served raw. No matter what you order, you'll feel healthy when you leave and inclined to keep eating the same way. Manager Adam Khalfalla works at Yorkville's Rawlicious location because he "just wanted to do something that helps bring better nutrition to people and also it's a platform for [him] to talk to people about healthy eating."
JMEV