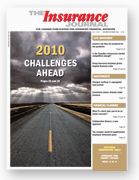 As reported in the November/December issue of the Insurance Journal, group insurance premiums are increasing in Canada.
Insurers had profits of 29.1 million from their Canadian group insurance activities in 2008, according to the Frazier Group's Group Universe Report 2008. Insurers also saw an increase of 7% in revenue coming from group insurance activities over 2007.
The 2009 third quarter results, released by insurers very recently, showed a sustained level of sales in the group sector.
For more details, please feel free to contact us at 1-866-899-4849. You can also get a group insurance quote online by visiting our Group Insurance Quote Page.