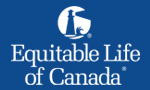 Equitable Life re-priced its Term 10 and Term 20 policies, effective July 1, 2009. Equitable Life has been providing life insurance to Canadians since 1920 and its one of the few insurance companies that's still a mutual insurance company, i.e. one owned by the policy holders.
Equitable Life isn't stopping at changing their term rates; it's also introducing a sixth rate band for policies in excess of $2,500,000. Rate bands are issued to give a cost per thousand discount for higher amounts of coverage. Insurance premiums are not generally linear, i.e. a $500,000 policy costs less on a per thousand basis than a $250,000 policy.
Most insurance companies have rate bands at $50,000, $100,000, $250,000, $500,000 and $1,000,000. Equitable Life's Band 6 makes it an ideal insurance company for high-networth clients looking to purchase larger term policies.
Equitable Life also introduced a conversion privilege within its Term 10 policy, which allows the insured to covert not only to a permanent plan without a medical, but from a Term 10 to a Term 20 policy within the first five policy years without a medical.
Below is pricing for the top three companies in Canada for a 40-year-old male, non-smoker for $500,000 of Term 10 and Term 20 coverage, as of July 23, 2009. Equitable Life is currently ranked #1 in Canada.
$500,000 Term 10
Equitable Life:              $35.55/month
Canada Life:                 $36.45/month
RBC Insurance:             $36.90/month
$500,000 Term 20
Equitable Life:              $62.55/month
Canada Life:                 $63.45/month
BMO:                           $63.90/month
You can get a free quote at our Term Insurance Instant Quote Page or contact us at 1.866.899.4849.