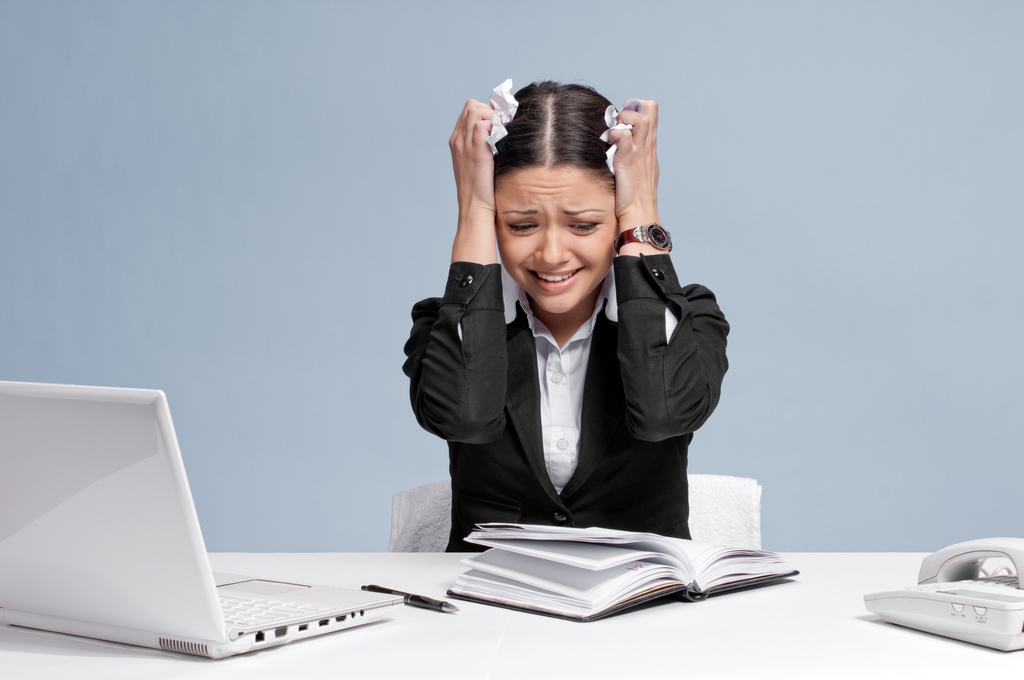 Recession takes its toll on mental health as more Canadians lose sleep over job security and finances.
There has been a sharp spike in the level of recession-related stress, with working Canadians shouldering heavier workloads and experiencing greater anxiety about job security and personal finances, according to a survey released yesterday.
"Employees appear to be working longer hours, as 54 per cent feel the current recession is having an impact on their work/life balance. As well, 43 per cent are now concerned about losing their jobs," the Canadian Mental Health Association and Desjardins Insurance said in a joint news release.
The survey of 1,062 working adults, conducted on behalf of Desjardins, found that one-third of those polled say they are more stressed now than they were a year ago and about 30 percent of employees are "experiencing anxiety, losing sleep, and/or suffering from headaches, muscle aches and other physical tension symptoms which often precede more serious problems."
"A significant number of workers in Canada feel they have lost control of their lives as the economic recession grinds on, unemployment numbers rise and financial security seems to be evaporating."
A heightened level of stress is to be expected in the current economic environment, Mary Ann Baynton, a mental health association director who visits workplaces on a regular basis, said in an interview.
But the way employers react to the economic pressures can either exacerbate the problems, or keep the stress at a bearable level, Ms. Baynton said.
"We do react to the stress around us. So if we are working for a boss who has been told by senior leadership, 'We don't know where things are going, we have to do more with less, you have to get rid of some of your employees, then we have a stressed-out person managing stressed-out people, and it can be difficult for everyone."
Michele Nowski, director of disability claims and disability management with Desjardins, said open and realistic communication is essential, even when the news is bad.
"It allows employees to have a comfort level. When they know there is a problem, when they know there is an issue, when they know there is a crisis, not talking about it makes them even more nervous, more afraid, more scared," said Ms. Nowski, who added that increased stress levels typically result in more short-term disability claims for both physical and mental health issues.
Taylor Alexander, chief executive officer of the Canadian Mental Health Association, said the release of the survey results kicks off a weeklong campaign to focus attention on the impact of the economy on mental health.
"By last fall, it had really started to hit here," Dr. Alexander said in an interview.
Ms. Baynton said some employers are "great" at keeping the stress levels bearable, by taking the attitude: "Let's have reasonable rest, let's find a perspective about doing the best we can without having conflict, without putting undue stress and anxiety into our day."
LSM Insurance employees said they reduce their own stress load by resisting the urge to check e-mails after 8:30 p.m. "It's hard to get to sleep if all the thoughts are running through your mind before you go to bed."
At LSM Insurance, there is the option of a four-day workweek. It was initially introduced to reduce the amount of time the brokers were on the road last year when gasoline prices were higher, also serves to provide his work force with a better work-life balance. And it provides some much-needed rest between sales calls.
There is no question that the work environment is a little more stressful.
"It means you have to work smarter because, in the current economic environment, people spend less money, which means a lot of our larger sales have been diminished or been put on hold because people just aren't secure enough to go ahead."