The Novaks, have a sick child – and a growing financial problem by Julie Cazzin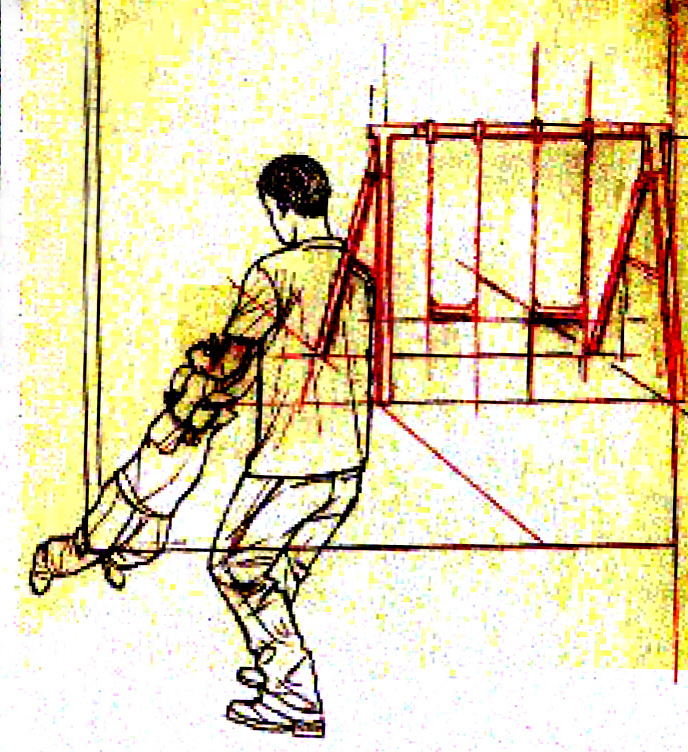 Novaks are living every parent's nightmare. Two years ago, their 11-month-old son Leo fell sick. He suffered for days with what his parents thought was the flu. Then he developed a rash and began to cry in constant pain. For six months, the Novaks ferried Leo from one doctor to another in their hometown of Sudbury, Ont. Nobody could identify his problem.
At their wit's end, the Novaks took Leo to see specialist at the Hospital for Sick Children in Toronto. The doctor's diagnosis knocked the Novak's world into pieces. Leo had an auto-immune disease so rare that only a handful of research has ever seen it. There was no cure. Leo might live for decades, but the progress of his condition was uncertain and he would need constant pain treatments and medication to keep his condition stable. "The diagnosis changed our lives forever." says Grace, 36, a speech therapist at a private school, "What little savings we had disappeared with Leo's diagnosis. We know that from now unit forever there will be the added burden of having to take care of Leo. Wherever I see people who fret because they can't max out their RRSPs, I just shake my head. Our day-on-day worries are so different from that."
The Novaks (whose name we've changed) are relived that Leo's illness seems to be under control and that their out-of-pocket medical expenses have stabilized at about $12,000 a year. But they feel overwhelmed by the financial demands they face. In addition to Leo, 3, they have his older brother, Mitchell, a healthy boy of 7, to rise. After paying tens of thousands of dollars for frequent trips to Sick Kids and other care-giving expenses, they have next to no net worth and only about $8,000 in retirement savings.
If Leo's disease worsens, the financial picture will get much darker. "Transportation, meals, hotels – every time we go to Toronto, the expenses add up," says Henry, 40, a consumer-marketing manager. "We need to know we have the money in our budget in case that happens."
Money got even tighter several months ago when Grace had to take disability leave from her $60,000-a-year job because of a flare-up of her arthritis. "I had a complete meltdown of my own after Leo was diagnosed," she says." I was lucky because had disability insurance with my employer. Even so, we have very little money left over. It's very stressful."
For now, the Novaks are living on $122,400 a year – $90,000 from Henry's job and $32,400 from Grace's disability payments. The disability payments run out in September. At that point, Grace hopes to return to work, but she's worried that a full-time job may not give her time to take Leo to his treatments. To give her the flexibility she needs, Grace is considering opening her own speech-therapy practice and working only part-time. "It's tough to give up the golden handcuffs of a big employer," says Grace. "Rut a full-time job just doesn't give me the flexibility I need to continue caring for Leo."
The Novaks worry about retirement. Neither has a pension at work. Henry has started to wonder if he should seek a job with a company that offers a pension, even if it means taking a cut in pay. But he worries that a cut in pay would mean disaster if Leo suddenly needs more help. "We need to always have cash on hand in case Leo needs more treatments in Toronto" says Henry. "I don't think we can save for both retirement and Leo's needs. I just need, to know how low a salary I can accept to make the witch financially feasible."
The Novaks have less than $2,000 in the bank and (Grace would like to build that cash up to at least $12,000). "We need that financial cushion to feel comfortable," says Grace, "I know we need to save for retirement and for the boys' education, but we also need to be sure the money will be there at a moment's notice should Leo need it. It's our first priority."
Grace grew up in Kingston, Ont., the youngest of three children. She enjoyed her childhood, but suffered a debilitating bout of arthritis in her teens that kept her out of school for months. She regained her health and graduated from Queen's University in 1992. She earned a masters degree in speech therapy two years later. In 1994 she met Henry, a Calgary native who was studying business at Queen's. "We lived together for three years and went to parties, movies and ate out a lot," says Grace. "Those carefree days seem so far away."
After graduation, the couple moved to Toronto and Henry landed a job with a consumer products company. Grace worked with kids as a speech therapist… They married in 1998 and set out to start a family. Mitchell arrived in 2001- but only after an agonizing pregnancy that requited Grace to spend six months in bed. "I had my head in a bucket the whole time," says Grace. "But Mitchell was born healthy. That's all that mattered."
When Mitchell was a year old, Henry found a new job as a marketing manager with a small family firm in Sudbury. Meanwhile, he and Grace tried to have another child. It was not easy. Grace suffered through several miscarriages before getting pregnant with Leo in 2005. She again developed complications and had to spend six months in bed, "My job became secondary," says Grace. "I got minimal sick benefits and we accumulated about $20,000 in debt that we eventually consolidated into our mortgage."
Leo was born on schedule, a seemingly healthy full-term baby. When he was 11 months old, Grace returned to work. But then Leo became ill and the health expenses and time off work started all over again, "Except this time the stress was too much and my own arthritis flared up again after years in remission," says Grace.
Grace went on disability last year. She is now trying to figure out what to do when her payments end in September. If she were to set up her own private practice, she could earn up to $5,000 a year and still have the time she needs to look after Leo. The danger is she may not be able to find disability insurance. If she can't find coverage, and her arthritis were to strike again, her income could disappear. "And we need a second income," says Grace. "That's money we. need to stay afloat."
After paying thousands of dollars in expenses related to Leo's care, the couple have little buffer left. They still owe $207,000 on (heir $214,000 home, as well as another $3,640 for Henry's student debt, which they hope to pay off next year. Henry's RRSP contains only $8,193 and the boys' RESP, only $4,217. Another $1,500 sits in a savings account.
The Novaks will soon have to shoulder day-care costs for their two boys, which they estimate will be about $10,000 a year for the next two years, beginning in September, when Leo is scheduled to start junior kindergarten. There is also the continuing cost of Leo's treatments, which consist of a mixture of conventional treatments as well as alternative therapies that the Novaks have researched on their own.
Leo goes twice a month to a chiropractor, gets weekly refit treatments for stress reduction, receives several acupuncture treat-men is a year, and goes once a month to a naturopath for advice on nutritional supplements. "I take him to all his appointments," says Grace. "He's functioning so much better than this time last year. We hope it keeps up."
Both Grace and Henry has purchased $500,000 in term life insurance, but Henry has no long-term disability Insurance at work, "Sometimes, in the middle of the night, I wake up thinking how great it would be to have the security of a good pension and great benefits," says Henry. "It would take such a load off our minds to haw those things taken care of for us. But I just don't know if it would be financially worth it in the long run for me to take a job that offers a lower salary in return for a company pension and better benefits."
What the experts say;
In a crisis such as the Novaks are facing, our experts say it's vital to concentrate on one or two goals. Since the Novaks are clear that their No.1 priority Is looking after Leo, here's what our experts suggest:
Protect their Income. The Novaks' first job must be to protect their incomes to ensure that they have the money they need to look after Leo, Our experts are concerned about what might happen if Grace's arthritis were to grow worse or if Henry were to fall sick. "They were lucky over the past few months that Grace had disability insurance," says Janet Freedman, a certified financial planner in Toronto and author of Hit by tin iceberg, an account of her own struggles after she tell and became a quadriplegic eight years ago. "Otherwise, they would have had piled up thousands of dollars worth of debt"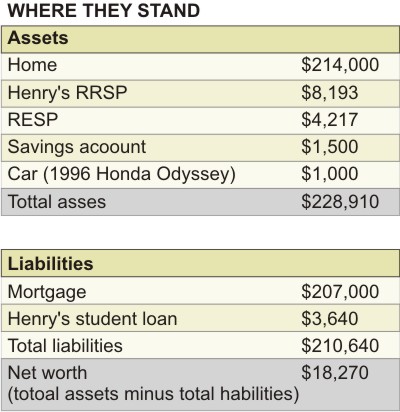 Since Henry is not covered by disability insurance at work, our experts urge him to buy his own coverage through an insurance broker, "It should be easy for him to qualify if he has no pre-existing condition," say LSM Insurance specialists. However, details matter when it comes to disability insurance. Much depends, for instance, on whether it's you or your employer that pays the premiums. If you pay 100% of the premium either directly or through payroll deductions (as Grace did), any benefits you receive are tax-free, "But if your employer pays even a small portion of your premium, then (he benefits are taxable." says Man. "The best strategy in most cases is to pay the full premium yourself. That way, taxes won't eat into any benefits you receive."
Grace, too, needs to gel some type of disability coverage, but finding that coverage is going to be difficult given her medical history. Our experts agree that the easiest way for her to obtain coverage would be to return to her full-time job. That would mean giving up her dream of becoming self-employed, but Freedman thinks there might be a compromise. Grace could ask her employer about returning to work on a part-time basis, working just enough hours to quality for disability coverage-usually 28 hours a week, "Sometimes employers are willing to be flexible," says Freedman. "But Grace has to ask." If Grace is determined to strike out on her own, Man suggests she ask a broker for a trial quote before making a decision.
Forget about retirement. Freedman thinks it would be disastrous for Henry to give up his high-paying job in return for a lower-paying job with a pension, "Not all company pensions are the same and some defined contribution plans aren't worth the paper they're written on," says Freedman. "The Novaks need to stop focusing on retirement for the moment. If they work until 60 or 65, like most boomers, they will be fine. Right now, though, they need every penny of Henry's income. They can't afford for him to take a pay cut."

If Henry is ready for a move, Freedman suggests he look for a job with a similar salary to his current position, but with gold-plated medical benefits. "The really good medical plans cover acupuncture, chiropractic visits, orthotics, speech therapy and a wide range of other medical treatments," she says, "If he could find a job that would pay him about the same salary, but cover a Jot of his family's $12,000-a-year in medical costs, that would really help the family's finances."
Change their saving vehicle. Freedman suggests the Novaks stop saving in RRSPs and RESPs and instead put their $3,600-a-year in savings into Tax-Free Savings Accounts (TFSAs). These new accounts, which are being introduced on Jan. 1, don't give you a tax deduction on contributions. But, unlike RRSPs, they allow you to withdraw money at any time, free of tax.
"The beauty of a TFSA is that it allows the Novaks the flexibility to take their savings out when they need the money," says Freedman. "If Leo's illness stabilizes for several years, they can use the money for retirement, But if Leo's condition gets worse, they can withdraw the money tomorrow without penalty."
Trim expenses, Freedman says the Novaks should look for relatively pain less ways to save. For instance, when Henry's student loan is paid off, they should immediately redirect what they were paying on his Joan into their TSFA, so they're not templed to spend it Switching to no-fee banking with an ING Direct or President's Choke account could save them a couple of hundred dollars a year. Cutting back on restaurant meals and gifts could put another $1,000 a year into savings.
Freedman knows it's a touchy area, but she suggests the Novaks also examine Leo's $12,000 in health-care costs for potential savings. "They need to ask themselves which medical treatments are really helping Leo and which aren't," she says. "They need to really evaluate what they're paying for and stick with the treatments that are doing him the most good. Sometimes, one acupuncture treatment a week is just as good as two."