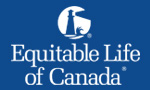 Equitable Life has reprised their 10- and 20-year renewable and convertible term plans to be more competitive in their target markets. They have also discontinued their term conversion credit program. Equitable Life will continue to honour conversion credits for previously issued policies.
Lorne's comments
Equitable Life has lowered their already competitive rates for most age groups.
Their term plans are also renewable and convertible, up to age 71, to permanent plans without a medical. Preferred rates are available for coverage of $250,000 and up.
On the downside, Equitable Life has discontinued their term conversion credit program on all new term policies. This feature gave a credit to all term policies converted to a permanent policy (i.e., a level rate plan) of up to 25% of the last 12 months of premiums.