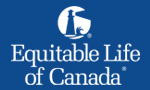 Equitable Life's Term 10 and Term 20 policies are available with face amounts as low as $50,000. Issue age limits are 18 to 75 years of age on their Term 10 plan, and 18 to 65 years of age on their Term 20 plan.
Equitable life offers preferred rates for those who qualify, on amounts over $250,000 for both smoker and non-smoker policies. The plans also have the following riders/benefits available as add-ons: accidental death benefit, guaranteed issue rider, waiver of premium rider, and children's life insurance rider.
In addition to the tax-free death benefit paid out to the policyholder's heirs, both plans have a built-in bereavement counselling benefit. This benefit automatically reimburses any counselling expenses to the beneficiary of the insured up to $500 per claim. The receipts must be submitted within a 12-month period of incurring the expense.
Another terrific feature in Equitable Life's Term insurance line-up is its conversion credit. All term policies converted to a permanent (i.e., a level rate plan) qualify for a 25% credit of the last 12 months of premiums.
Below are examples of Equitable Life's Term 10 rates at $250,000 of coverage:
Client…………….Standard Rates….Preferred Rates
35-yr male N/S:…$19.35/month……..$15.08/month
45-yr male N/S:…$33.53/month……..$26.33/month
55-yr male N/S:…$75.38/month……..$57.38/month