Life Insurance for Caregivers or Nannies

Nannies can still get life insurance.
Photo by Sharon Mollerus
Due to the Canadian government's slower processing of open work permits and families having to take on more of the fees associated with sponsoring and hiring a foreign live-in nanny, Canada is actually experiencing a nanny shortage right now.
According to the Toronto Star, "The number of live-in caregivers arriving in Canada has plummeted by 40 per cent from its peak of 13,773 in 2007 to just 8,394 in 2010. Currently, average processing time to get an overseas nanny is 15 months, 17 months for the Philippines, the main source country."
LSM Insurance surveyed a number of life insurance companies regarding their underwriting criteria and practices for caregivers coming to Canada from the Philippines and beyond.
Caregivers or Nannies from the Philippines
Those from the Philippines can generally qualify for a maximum of $250,000 of life insurance coverage. The type of plan is not particularly relevant in terms of underwriting. However, these nannies will likely only be able to qualify for $250,000 total.
In terms of underwriting requirements, nannies who have been in Canada less than one year will be required to complete a paramedical blood test and a hepatitis B and C screening. Applicants who have been in Canada over one year are likely to have to complete the same underwriting requirements as any other Canadian citizen who applies. These requirements tend to require medical tests that are not as stringent.
Caregivers or Nannies from Countries Outside of the Philippines
The maximum issue limit by the companies surveyed is again $250,000, but the underwriting requirements are a little more strenuous.
Applicants in Canada under one year will have to complete a paramedical blood test, including a hepatitis B and C screening, and they will also likely need to provide a copy of their work permit, confirming the applicant is indeed part of the live-in caregiver program. Depending on the country of origin, additional requirements may be needed. Applicants in Canada over one year will need to complete standard underwriting requirements, but still need to provide a copy of their work permit confirming their part in the live-in caregiver program.
For applicants who do not speak English, Assumption Life allows brokers who speak the applicant's language to translate for all products up to $250,000. Amounts over $250,000 require a paramedical form completed by a nurse who can translate it in the applicant's language.
Canada's Lowest
Life Insurance Rates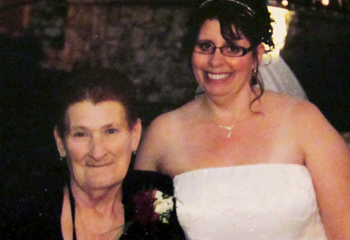 Lisa Harbinson wanted a new life insurance policy for her mother Joyce. She thought mom was paying too much at over $100 a month for a $10,000 term policy that she had borrowed money against and now it was time to pay it back. (1 of
83
)
For more details on life insurance for caregivers or nannies, please contact us at 1-866-899-4849, or visit our Term Life Insurance Quote Page.